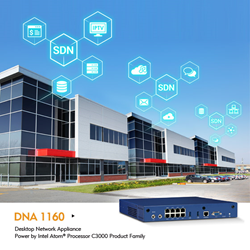 Fremont, CA (PRWEB) August 29, 2017
NEXCOM desktop appliance DNA 1160 extends network functions virtualization (NFV) to the network edge, streamlining service provision for communication service providers (CSP). Featuring Intel® Atom® processor C3000 product family, the DNA 1160 integrates up to multi-core computing performance, hardware acceleration in virtualization, crypto and compression workloads, and eight 1 Gbps Ethernet ports to set a solid and reliable software-defined infrastructure for instant service fulfillment and flexible service scaling, aimed at SOHO, home office, and small and medium-sized enterprise (SMB) users.
The desktop network appliance DNA 1160 can create a reliable virtual environment for virtual machines to run on. Supporting up to 32 GB of DDR4 ECC memory and leveraging Intel® Virtualization Technology (Intel® VT), DNA 1160 can effectively allocate its hardware resources to process memory-intensive virtualization workloads, support I/O virtualization, and simultaneously reserve computing power for virtual network functions. The desktop network appliance DNA 1160 can therefore assure smooth deployment of virtual machines and effective operation of network functions.
Available with fan-less configuration to alleviate concerns over noise and system reliability, DNA 1160 can further enhance performance of network applications with Intel® QuickAssist Technology. It can step up network security by boosting packet encryption, decryption, compression, and decompression for firewall, unified threat management (UTM), and deep packet inspection (DPI) applications. HTTPS, SSL, and virtual private network (VPN) encryption can also be accelerated to mitigate data theft and snooping risks for secure data transmission.
About NEXCOM: Founded in 1992, NEXCOM integrates its capabilities and operates six global businesses, which are IoT Automation Solutions, Intelligent Digital Security, Internet of Things, Intelligent Platform & Services, Mobile Computing Solutions, and Network and Communication Solutions. NEXCOM serves its customers worldwide through its subsidiaries in five major industrial countries. Under the IoT megatrend, NEXCOM expands its offerings with solutions in emerging applications including IoT, robotics, connected cars, Industry 4.0, and industrial security.