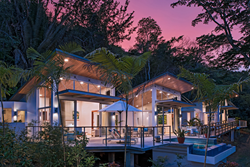 we became known as a model for sustainable tourism development
San Ignacio, Belize (PRWEB) August 30, 2017
The Lodge at Chaa Creek recently joined Sustainable Travel International as part of the Belizean eco-resort's mission to promote responsible travel in Belize, the region, and across the world, its owners say.
Mick and Lucy Fleming, who opened Chaa Creek in 1981 with a few rustic, thatched roofed cottages at their farm on the banks of the Macal River, have built a successful enterprise based on the premise that a resort can offer the highest levels of quality accommodations, amenities and service in ways that benefit the host country's environment and communities.
"We always said that being Green needn't come at a cost to luxury, and we gambled that many of today's travellers shared our beliefs that tourism should provide benefits for the traveller as well as the host country and local people," Ms Fleming said.
"It was a gamble that continues to pay off today," she added.
Since beginnings best described as humble, The Lodge at Chaa Creek has grown to include a wide selection of accommodations ranging from the simplicity of the Macal River Camp to the luxurious Ix Chel Rainforest Villas with stunning private views, personal Jacuzzis, plunge pools and al fresco dining complete with the services of a personal butler.
The signature "Cottage Collection" and assorted suites and villas, including the Tree-Top suites favoured by guests that have included a member of England's royal family, are supported by amenities that include a highly regarded farm-to-table restaurant, infinity pool, spa, serviced conference centre and on-site attractions such as the Belize Natural History Museum, butterfly farm, traditional Maya organic farm and medicinal plant trail.
Miles of jungle trails maintained for horseback riding, nature hikes and exploration crisscross a 400-acre private nature reserve dotted with over 70 ancient Maya archaeological sites and temple.
Ms Fleming said upholding a commitment to sustainable tourism during Chaa Creek's development presented challenges, none of which proved to be insurmountable, and furthered the Fleming's belief that responsible travel and quality can go hand-in-hand.
In fact, she says, Chaa Creek's Green credentials contributed to its success.
"One of the things we learned early on was that many, if not most of today's travellers were concerned about the effect tourism has on the environment and people, and were happy to support an eco-resort with Green credentials – especially if the quality and service were of a high standard.
"So we started with very positive word of mouth that attracted the attention of various organisations such as Green Globe, Green Travel Index, National Geographic, Lonely Planet and others, and before we knew it, we became known as a model for sustainable tourism development."
In addition to numerous awards, Chaa Creek has attained the highest Green Globe certification and was recognised with first place honours for engaging communities at National Geographic's World legacy Awards presented in Berlin February 2017. Ms Fleming explained that joining Sustainable Travel International is the latest engagement with the global sustainable tourism network.
"We studied what Sustainable Travel International was about, and decided it would be a good fit," Ms Fleming explained.
"The fact that tourism now accounts for some ten percent of the world's total economic activity presents huge possibilities, especially for developing countries, but, if not properly managed, also has the potential for environmental and social stress.
"However, with proper management, tourism can actually serve to protect the environment and spread the economic benefits through all strata of society while raising the quality of life with better schools, hospitals, career options and infrastructure. And that is strengthened by a global effort and coordination," she said.
With a mission statement of "Improving lives and protecting places through travel and tourism" and a core belief that "Travel and tourism can protect the world's natural and cultural riches and create economic opportunity," Sustainable Travel International has for thirteen years been working to "enable self-directed sustainability for the travel and tourism industry," and is working in conjunction with the UN's 2030 Agenda For Sustainable Development goals, according to the organisation's website.
Ms Fleming said the organisation's activities are particularly relevant in light of The UN General Assembly's designation of 2017 as "The Year of Sustainable Tourism for Development", a topic she will be highlighting with an address at an upcoming international conference sponsored by the Belize Tourism Board.
"Organisations such as Sustainable Travel International help a business to act locally while thinking globally," Ms Fleming said, "To know that there are like-minded groups and individuals also working to make global tourism a force for good is empowering, and the sharing of resources, contacts, ideas and suggestions is invaluable.
"It also reminds you that you are part of a global, transformative movement that is making a difference in the lives of so many people, and that feels very good indeed," Ms Fleming said.
The Lodge at Chaa Creek is a multi-award winning eco resort set within a 400-acre private nature reserve along the banks of the Macal River in Belize. It was recognised by National Geographic with first place honours at the 2017 World Legacy Awards held in Berlin.
ENDS