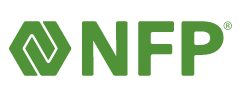 NEW YORK, NY (PRWEB) August 29, 2017
NFP, a leading insurance broker and consultant that provides employee benefits, property & casualty (P&C), retirement and individual private client solutions, today announced that it has acquired DGU Insurance Associates, LLC. The transaction closed effective July 1, 2017.
Based in Sarasota, Florida, with additional offices in North Carolina and New Jersey, DGU is a specialty Managing General Underwriter (MGU) focused on unique risk transfer solutions primarily for credit unions and community banks. CEO Kathleen Ayer will join NFP as a managing director of NFP P&C while COO Teresa Tomasiello will serve as a director of NFP P&C and report to Ayer. Kathleen will report to NFP Executive Vice President and CEO of NFP P&C, Terry Scali.
"Kathleen Ayer and the DGU team are experienced professionals who possess extensive expertise in program development for financial services organizations. We are excited to welcome them to the NFP family," said Terry Scali. "DGU will provide additional risk transfer resources to NFP's financial institution clients nationally, in addition to collaborating with NFP's Executive Benefits division on solutions for its broad base of bank clients."
Kathleen Ayer said, "We are thrilled to bring our underwriting solutions to complement the already extensive products available under NFP's P&C division that can help to grow and strengthen financial institutions. We look forward to many years of collaboration and success as an integral part of the NFP team."
About NFP
At NFP Corp., our solutions and expertise are matched only by our personal commitment to each client's goals. We're a leading insurance broker and consultant that provides employee benefits, property & casualty, retirement and individual private client solutions through our licensed subsidiaries and affiliates.
NFP has more than 3,800 employees and global capabilities. Our expansive reach gives us access to highly rated insurers, vendors and financial institutions in the industry, while our locally based employees tailor each solution to meet our clients' needs. We've become one of the largest insurance brokerage, consulting and wealth management firms by building enduring relationships with our clients and helping them realize their goals.
Recently NFP was ranked the 4th largest U.S.-based privately owned broker and the 5th largest benefits broker by global revenue by Business Insurance, the 9th largest property & casualty agency by total 2016 P&C revenue by Insurance Journal, the 11th largest global insurance broker by Best's Review and the 12th largest broker of U.S. business by Business Insurance.
For more information, visit NFP.com.