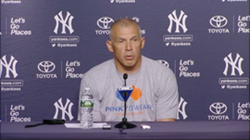 MINNEAPOLIS, MINNESOTA (PRWEB) August 29, 2017
KLN Family Brands, an official partner of the New York Yankees announced today it is providing fans with a special ticket offer to support kids with cancer and their families. For $150, fans will receive a seat in the Party City Party Suite for the Yankees vs. Baltimore Orioles game on Sunday, September 17, 2017 at 1:05 pm.  Each game ticket (valued at $400) includes access to the suite, food, alcoholic and non-alcoholic beverages and a chance to meet former Yankees players.
All proceeds from ticket sales benefit the Pinky Swear Foundation, which provides families facing cancer with financial and emotional support, including grants for stable housing, reliable transportation, utilities, food and weekend getaways, so they can focus on what's most important: their child battling cancer. 
"Every time the Yankees take the field, we fight to win. But too many children are fighting for something far more important; their lives," said Joe Girardi, Yankees Manager. Girardi spoke on behalf of the Pinky Swear Foundation at his pregame press conference on Sunday, July 30th while wearing a Pinky Swear t-shirt.
The Yankees are also providing special access to pre-game batting practice and complimentary game tickets to families supported by the Pinky Swear Foundation.
 
The limited time offer is available at https://www.pinkyswear.org/yankees
 
The Pinky Swear Story
Pinky Swear Foundation was founded in honor of Mitch Chepokas, who lost his battle to bone cancer in 2003. In December 2002, 9-year-old Mitch overheard his pediatric oncology ward neighbors stressed about money for Christmas gifts, and generously decided to give away his savings – $6,000 – to other kids fighting cancer. After sneaking envelopes of cash under doors and on nightstands, Mitch told his dad it was the most fun he'd ever had, and he wanted to do it again the following year. With a terminal prognosis, his dad had to tell Mitch the truth: that he wouldn't be around the following Christmas. That's when Mitch made his dad, Steve, 'pinky swear promise' to continue to help families with kids with cancer even after he was gone. To date, over $13 million has been raised to support brave kids battling cancer in 46 states.
 
Pediatric Cancer Facts

A child is diagnosed with cancer every 45 minutes
The average age of diagnosis is 6 years old
The average length of treatment is 2 years
The average family will spend 25% of its disposable income on non-medical related expenses associated with the treatment of their child
One in 11 families with a child diagnosed with cancer will file for bankruptcy
   
About Pinky Swear Foundation
Founded in 2003, Pinky Swear Foundation is a 501c(3) not-for-profit passionately committed to helping children with cancer and their families by responding to the immediate crisis facing families with a childhood cancer diagnosis. Pinky Swear supports families' quality-of-life with financial assistance for basic needs and through experiences that create emotional support, so they can focus on what's most important: their child battling cancer. Inspired by a pinky swear promise made between a 9-year-old boy and his dad, the foundation engages kids to help grow the community of keepers of the pinky swear. Pinky Swear Foundation fundraising activities include annual kids triathlon events, the Hy-Vee® Pinky Swear 5K & Fun Run events in five communities nationwide, National Pinky Swear Day on December 11, and other community engagement events around the nation. Visit http://www.pinkyswear.org for more information.
  
About KLN Family Brands
KLN Family Brands is the parent company of Tuffy's Pet Foods and Kenny's Candy & Confections.  Nestled in beautiful Perham, Minnesota, KLN Family Brands manufactures super premium Nutrisource Pet Foods and great snacks like Wiley Wallaby Australian Style Liquorice. Giving back has always been a priority for this family-owned business and we continue to share that vision today. A portion of every KLN Family Brands purchase is put back into the community and the company has committed $1 million to the Pinky Swear Foundation. http://www.klnfamilybrands.com  
 
Media Contact
Jenny Peters  |  Director of Marketing
7835 Telegraph Rd  |  Bloomington, MN 55438
m: 612.916.3060  |  o: 952.232.6395