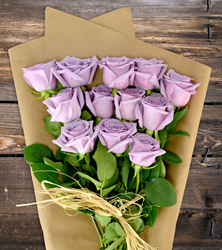 Timeless sophistication, floral artistry and pastoral tranquility appeal to the senses in a stunning fashion.
Haymarket, VA (PRWEB) August 31, 2017
The new line of Artisan Roses from Bloomstoday.com melds the exquisite grandeur of roses with vintage homespun styling for a bouquet presentation that raises the bar on sending love, appreciation, romance and admiration. Fresh, long-stemmed roses are tenderly gathered in cool mornings from professional flower farms then sorted for the finest buds and subsequent blooms. Floral specialists at bloomstoday.com hand select each rose for shape, color and perfect condition to assemble this farm fresh Artisan Rose bouquet which is then gently tied with rustic brown twine and laid on natural plain brown paper.
The contrast alone demonstrates that powerful expressions of love can equally embrace sophistication and homestead modesty. The roses look perfectly at home in this humble setting, which creates a magical "opposites attract" brand of beauty. Timeless sophistication, floral artistry and pastoral tranquility appeal to the senses in a stunning fashion.
Artisan Roses are available not only in 12, 18 and 24 rose collections, but also in a beautiful and very appealing array of colors:

creamy white - like soft chamois
bright yellow - akin to morning sunshine
soft lavender - reminiscent of royalty
deep crimson - connotes red, romance, reverence
pretty pink - powerfully feminine and sweet
energetic multi color - rainbow of roses pairs classical style with down-home simplicity
The Bloomstoday.com Artisan Roses commingle fresh, field-grown flowers with refreshingly rustic wrapping where natural beauty and primitive adornment bond like besties.
About Blooms Today:
Blooms Today™ offers a wide variety of Elegant Flowers, Plants and Holiday Centerpieces and is your one-stop shop for all your floral needs. Orders are delivered by our local preferred florists through partnerships with the top three floral networks, FTD, a relationship in place since the 1930's, 1-800-Flowers, and Teleflora or handpicked from select farms in South America, Holland and from California. Blooms Today™ continues with a promise to provide excellent customer service and superior quality to every customer. Blooms Today™ prides itself in the ability to provide expedited service to customers and offers a 100% money back guarantee on all products.