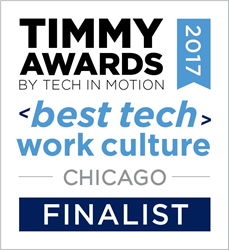 "Every day, our culturally diverse teams innovate together, challenge one another, and collaborate across continents to deliver the best possible experience for our clients and customers." ~ Craig Vodnik, co-founder, cleverbridge
Chicago (PRWEB) August 29, 2017
cleverbridge, a provider of global ecommerce, billing and payment solutions, announces Tech in Motion Chicago has named cleverbridge a finalist for the 2017 Timmy Best Technology Work Culture Award. Now in its third year, the Timmy Awards recognize the top workplaces for tech professionals. Winners for each of the four award categories will be announced at Chicago's Timmy Awards on September 21 at 1871 in Chicago.
The Timmys are presented in four categories: Best Tech Work Culture, Best Tech Manager, Best Tech Startup, and Best Tech Workplace for Diversity. The Best Technology Work Culture Award is presented to the company that promotes technical creativity, innovation and learning, and rewards contributions from its entire team. All award finalists are selected by a panel of accomplished judges representing Illinois technology. The public can contribute to the selection of this year's winners by voting online from August 24–September 8. Winners will be determined by a composite score of the judges' scores and public voting. Past award winners include LearnVest, Venmo and Trip Advisor.
"The Timmy Awards aim to celebrate the companies and managers that make that technological innovation possible," says Mandy Walker, Director of Marketing at Tech in Motion and Motion Recruitment Partners. "Since the Timmy Awards were created in 2015, over 400 finalists have been celebrated for creating work environments that enable growth in the technology of various industries."
"We're thrilled to be recognized by Tech in Motion as one of the best tech work cultures in Chicago," said Craig Vodnik, co-founder, cleverbridge. "Every day, our culturally diverse teams innovate together, challenge one another, and collaborate across continents to deliver the best possible experience for our clients and customers. I view this award as a testament to those continued efforts and to our employees who make this a great place to work."
Since its founding in 2005, cleverbridge has focused on fostering a strong company culture as a global organization, which has resulted in a great deal of industry recognition. The company was named a 2017 Computing Digital Technology Leaders Awards Finalist (Best Place to Work in Digital - Large Organizations); No. 20 on the 2016 Top German IT Employers list; National Champion representing Germany in the 2014/15 European Business Awards' Employer of the Year Award category; and an Owler 2016 HOT in Cologne Award Winner, as one of the most popular, top trending companies in Cologne. cleverbridge's Chicago office was also named to Chicago Business Journal's Best Places to Work Awards, Chicago Inno's 2017 Coolest Companies, Crain's Chicago Business' Coolest Offices and Brill Street's Top 50 Employers for Gen Y Emerging Talent in Chicago.
To view the 2017 Timmy Awards list of finalists or cast your vote for the award category winners, visit http://www.meetup.com/TechinMotionChicago/events/241029182 between August 24–September 8. To learn more about cleverbridge and our open positions, please visit http://www.cleverbridge.com/careers.
About cleverbridge
cleverbridge provides flexible ecommerce solutions for monetizing digital goods, online services and SaaS. Our cloud-based ecommerce platform simplifies recurring billing, optimizes the customer experience and offers comprehensive global payment capabilities. Leveraging cleverbridge expertise, technology and services, clients effectively increase customer acquisition and retention while rapidly expanding into international markets for revenue growth. cleverbridge is headquartered in Cologne, Germany with offices in Chicago, San Francisco and Tokyo. For more information, visit http://www.cleverbridge.com.
About Tech in Motion Events & The Timmy Awards
Tech in Motion is a North American events series that brings local tech community professionals together to connect, learn, and innovate. What started as a collaborative project between IT recruiting firms Jobspring Partners and Workbridge Associates in 2011, grew into an organization of over 85,000 members across 11 chapters in North America including Boston, Dallas, New York, Philadelphia, DC, Chicago, San Francisco, Silicon Valley, LA, Orange County, and Toronto. Please visit http://www.techinmotionevents.com for more information about our notable speakers, sponsors and events.