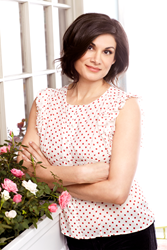 I strive to educate and enlighten parents about the simple principles of natural living, always adhering to the philosophy: what's good for the environment is good for families.
New York, NY (PRWEB) August 29, 2017
Jessica Iclisoy, Founder and CEO of California Baby will be given the "Mom First Award" at M2Moms® – The Marketing to Moms Conference, Oct. 3 & 4, NYC. "Every year," according to M2Moms® producer Nan McCann, "the Mom First Award is presented to a woman who started something new when, in her own role as a Mother, she saw a need and filled it… first as a Mom at home, and then in the marketplace. Through her ingenuity, commitment and entrepreneurial perseverance this woman developed and took to market something that has made a difference in the lives of so many others. Jessica certainly fits that description. We recognize her business success as we remember how it started… she was a Mom, first!"
"More than 20 years ago," McCann explained, "Jessica embarked on a journey to create a non-toxic environment for her family. Launching in her kitchen with ingredients she had sourced, Jessica began to create the beloved formulas for what is today, the industry standard in natural skincare, California Baby. California Baby includes more than 90 products, a certified organic and FDA registered manufacturing operation, a certified organic farm, major retail distribution and worldwide recognition. It is also a certified Woman Owned Business."
"Jessica is a dynamic force in in the organic movement and her efforts to protect future generations extends beyond the Los Angeles facility. She is a member of the Organic Trade Association and previously served on the Natural Products Association's task force committee to recommend organic and safe cosmetics standards in the cosmetics industry. She also collaborates with leading groups and companies to initiate congressional action to establish federal legislation demanding safe cosmetics, and has participated in lobbying activities to help shape TSCA and Personal Care Product Safety reform. Jessica launched The Natural Advisory Council (NAC) in October 2016 to form a strong coalition of natural, organic and "green" product manufacturers, retailers, and non-profit consumer protection organizations to advocate, collaborate and educate (ACE) on the definition and use of the term, "natural" in all consumer products."
"Jessica believes that her mission extends far beyond creating products that are safe for children and healthy for the environment. She strives to educate and enlighten parents about the simple principles of natural living, always adhering to her founding philosophy: what's good for the environment is good for families."
"A nationally-recognized thought leader on entrepreneurship and the natural/wellness industry, Jessica has been featured in Forbes, Fortune, the New York Times, Fast Company, Inc., and Entrepreneur, among many others. Recognized by Forbes magazine for her achievements and journey in building California Baby, she debuted as a highlighted newcomer on the magazine's annual Richest Self-Made Women list in 2017."
"I'm sure every marketer in the audience will want to meet Jessica. She's a mom with a mission, a multi-million-dollar business and a peerless track record. M2Moms® is attended by savvy brand and ad execs from virtually every product category," McCann explained. "They attend for the research and case studies, the new techniques and how-to sessions that will really help them improve their marketing and sales. Moms are brand-critical decision makers for a broad range of products and services. They are today's super power consumers."
"Every year, "McCann continued, "M2Moms® is attended by a comprehensive and diverse list of brands including Microsoft, Johnson & Johnson, Evenflo, IKEA, Abbott Nutritionals, GM, Allstate, Heinz, Symantec, Hasbro, BBC, NBA, Procter & Gamble, Wyeth and Coca-Cola. M2Moms® attendance typically sells out."
M2Moms® sponsors include Presenting Sponsors: Google and Cooper Tires; Associate Sponsor: John Zogby Strategies; Showcase Sponsors: GfK, WebMD, Tiny Beans, WongDoody, Music Together, Garden of Words, Purse Power, VML, World Kitchen, Tribe Dynamics, Ask Patty, Macaroni Kid, Strottman, Fletcher Marketing PR, House Party, Mom 365, Marketing to Mums, and Baby Center. Video Content Resource Sponsor: Snippies. PMP, Paramount Market Publishing is the official M2Moms® bookseller.
For M2Moms® information: http://www.m2moms.com or 860.724.2649 x11. M2Moms® is produced by PME® Enterprises LLC, 912 Silas Deane Hwy., Suite 101, Wethersfield, CT 06109.