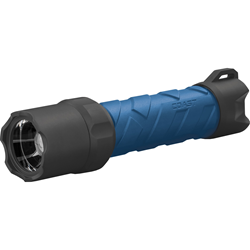 Built to withstand the harshest environments, while incorporating the absolute latest in features, quality and craftsmanship, our customers can count on our new POLYSTEEL 600R to light the way.
Portland, OR (PRWEB) August 31, 2017
For the harshest environments, COAST's new POLYSTEEL 600R is a must-have high-quality, innovative flashlight. This brilliant, rugged, rechargeable flashlight includes an array of features. It's waterproof, nearly indestructible and incredibly bright – up to 710 lumens. The light's unique design uses a stainless-steel core to ensure maximum strength. It is then covered with a very strong, easy to grip polymer body. It is built to perform dependably in the most demanding environments, perfect for outdoor and indoor projects where durability and reliability are must-have features.
The all-new POLYSTEEL 600R LED flashlight is dual-powered, able to operate using its high-quality lithium rechargeable battery pack or with standard alkaline batteries. The lithium battery pack also includes an out port, which allows the recharging of other devices that use USB cords via the battery pack.
Projecting a beam up to 810 feet, this remarkable flashlight also features COAST's patented Pure Beam Optics System – with advanced, proprietary technology that produces a pure, bright consistency across the entire beam; whether it is in Bulls-Eye Spot mode or Ultra View Flood Beam mode.
The POLYSTEEL 600R is equipped with COAST's easy-to-use Twist Focus and boasts three light outputs. With the company's brand new, state-of-the-art production process combined with the latest high-performance technology and innovation, COAST has taken its exceptional quality and durability standards to a higher level.
Virtually indestructible, the POLYSTEEL 600R is waterproof, crush proof and drop proof. It has a waterproof rating of IPX8 at three meters and has an impact resistant rating of two meters. It is designed to withstand daily use in even the toughest environments – at home, at a jobsite, outdoors or anywhere in between – making it the perfect light for almost any project. Engineered for lasting quality, with a stainless-steel core wrapped in molded polymer, it's even available in five colors: Orange, Black, Green, Red and Blue.
Following are the specs, tested to ANSI FL1 standards. The POLYSTEEL 600R can be powered by 4 AA batteries or the lithium battery pack which is included.
With Included Lithium Battery Pack

Lumens: 530 (High), 155 (Medium), 42 (Low)
Run time: 5 hours, 45 minutes (High), 9 hours, 30 minutes (Medium), 35 hours (Low)
Beam distance: 685 feet/209 meters (High), 354 feet/108 meters (Medium), 193 feet/59 meters (Low)
With 4 AA Alkaline Batteries

Lumens: 710 (High), 245 (Medium), 73 (Low)
Run time: 2 hours, 15 minutes (High), 5 hours, 15 minutes (Medium), 40 hours (Low)
Beam distance: 810 feet/247 meters (High), 465 feet/142 meters (Medium), 255 feet/78 meters (Low)
The unique crosshatched, textured industrial body makes the POLYSTEEL 600R extremely comfortable to grip and ergonomic to use. The forward-thinking design extends to the anti-roll tail cap and tactical style rear switch. With a simple partial depression, the momentary switch effortlessly cycles between low, medium and high power output for optimal project illumination and to conserve battery life when possible. This rugged light is almost indestructible, impervious to water, weather and abuse.
"At work or home, those wanting a premium-quality flashlight that's also literally tough as iron, will want to pick up our new POLYSTEEL 600R," remarked COAST President David Brands. "It delivers impressive and superior lighting technology for the toughest and most challenging environments. You never have to worry about dead batteries putting a stop to your work, or play, because you always have a backup. Our exclusive new out port lets users recharge other USB devices from the 600R battery pack. Built to withstand the harshest environments, while incorporating the absolute latest in features, quality and craftsmanship, our customers can count on our new POLYSTEEL 600R to light the way."
The POLYSTEEL 600R flashlight is available now and has a suggested retail of $89.99. Check the COAST website for the latest information.
COAST Products – A History of Innovation
COAST Products is a 98-year-old, family-owned company that produces lights, knives and multi-purpose tools for work, recreation and everyday use. COAST produces innovative, technologically advanced products backed by a lifetime warranty that make the user's life safer, easier and more enjoyable. Whether for hard work or hard play, COAST has the right lighting and cutting tools to get the job done. COAST products are available at leading sporting goods, automotive, hardware and industrial dealers and distributors all over the world. For more information, call 800-426-5858 or visit http://www.coastportland.com.