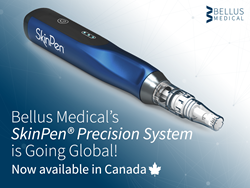 We are thrilled to be the first company to offer a safe, effective and innovative microneedling system in Canada.
Addison, TX (PRWEB) August 30, 2017
Bellus Medical, a leader in medical aesthetics products and devices, is pleased to announce that Canadians will now be able to enjoy the skin-enhancing benefits of the innovative products Bellus Medical offers. This includes the SkinPen® Precision microneedling device, Skinfuse™ post-microneedling protocol, and coming in October, Allumera®, a breakthrough photodynamic topical cosmetic cream.
SkinPen® Precision is Bellus Medical's flagship product, and now with Health Canada's Medical Device license Number 99476, Bellus will offer the complete SkinPen® microneedling system, including the Skinfuse™ treatment kit, to treat Melasma, acne and surgical scars in Canada. The SkinPen® microneedling system raises the standard in technology and is backed by the highest medical device standards available to practices and their patients. SkinPen® is the only device on the market exclusively designed and engineered with the following safety features:

Patent pending sterile, single use microneedle cartridge that houses a reciprocating mechanism typically enclosed in the microneedling pen, ensuring a long-term reliability of the SkinPen® Precision device.
Ingress protection to prevent any blood, fluid or serum present during the procedure from penetrating into the pen.
14 stainless steel medical grade needles that create 1633 micro-injuries per second for increased efficiency.
Bio-Sheath, designed specifically for SkinPen®, helps protect patients from potential cross-contamination, ensuring fluids generated during the procedure do not pass from contaminated glove to SkinPen®.
"We are thrilled to offer an innovative microneedling system in Canada," said Joe Proctor, Bellus Medical President and CEO. "Receiving the Medical Device License from Health Canada, along with the ISO 13485:2016 certification, further establishes Bellus Medical as a leader and trusted provider in the aesthetic medical device industry. I look forward to sharing a technology that has been designed to maintain, preserve and restore skin health as well as treat and correct conditions such as Melasma. The most exciting aspect of Health Canada's approval is that the Canadian market has shown high demand and acceptance for innovative new devices in the aesthetic space."
The SkinPen® system is now available for purchase by medical practitioners in Canada. To learn more about the revolutionary SkinPen® from Bellus Medical, watch this video. For more information and to place an order, contact Bellus Medical at 888.372.3982 or info(at)bellusmedical(dot)com.
About Bellus Medical
Bellus Medical, headquartered in Addison, Texas, is an industry leader in medical aesthetics with an unmatched reputation of providing the highest levels of safe and effective products, along with the most innovative technology on the market. Bellus Medical was founded in 2012 and quickly became a pioneer in the medical microneedling industry with the introduction of its flagship product SkinPen®, a state-of-the-art microneedling device. The product portfolio continues to expand with unique and differentiated products that enhance the patient experience and represent a significant business opportunity for medical practices. Bellus Medical is the first, and currently the only, microneedling company in the medical aesthetics industry to earn the prestigious ISO 13485:2016 Certification. Built upon three guiding principles – technology, education and customer service – Bellus is much more than a supplier to aesthetic practices, it is a trusted business partner. To learn more about Bellus Medical, visit http://www.BellusMedical.com. To learn more about SkinPen microneedling system, visit http://www.SkinPen.com