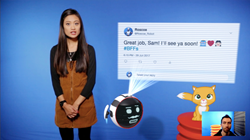 We are thrilled to be on the cutting edge of the Augmented Reality revolution. Our 3D Avatar creates unparalleled opportunities for entertainment, education, information and live action video - Rex Cook, Founder
Los Angeles, Calif. (PRWEB) August 30, 2017
AvatarLabs, an award-winning interactive and digital agency, just announced significant enhancements to its Live 3D Avatar technology. The technology leverages a new take on compositing, depth tracking and motion capture, allowing for a live stream of a human and actual body presence alongside other objects such as an animated character or image, all in one digital, storytelling environment.
Companies in the entertainment, gaming, motion picture and consumer space frequently have product lines or content featuring the interaction of humans with fictional characters or animated creatures. Live 3D Avatar 2.0 will bring those stories to life in a new way, allowing audience participation and creative spontaneity. AvatarLabs has also taken this interaction to a new level and unlocked the code to pairing live video of a human with elements that react to emotions, tone, position or commands, either programmatically or like a puppet.
"The possibilities are endless with Live 3D Avatar," said James Safechuck, Director of Innovation at AvatarLabs. "Our clients will now be able to merge a live spokesperson or talent with characters, imagery or fictional elements of their choice, all in one virtual environment. This will be a game changer in the world of digital storytelling across all platforms and mediums."
According to Rex Cook, founder of AvatarLabs "We are thrilled to be on the cutting edge of the Augmented Reality revolution. Our 3D Avatar creates unparalleled opportunities for entertainment, education, information and live action video."
For more information on AvatarLabs or the agency's Live 3D Avatar 2.0, visit AvatarLabs.com or check out the 2.0 demo on Vimeo.
About AvatarLabs
Founded in 2001, AvatarLabs is an independent full-service interactive and experiential agency based in Los Angeles, CA. With a passion for storytelling and innovation across a full spectrum of digital applications and devices, AvatarLabs has collaborated with numerous clients across entertainment, gaming, consumer products, lifestyle and hospitality. The agency is proud to have collaborated on groundbreaking campaigns for seven of the top-ten highest grossing films of all time. AvatarLabs has been named ThinkLA's Digital Agency of the Year and on iMedia's Top 25 Agencies to Watch. For more information on the agency, services and work portfolio, visit http://www.avatarlabs.com