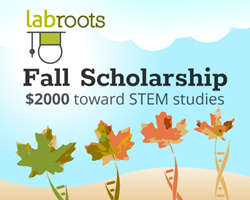 Yorba Linda, Ca (PRWEB) August 29, 2017
LabRoots, the leading provider of educational and interactive virtual events for tech innovators, engineers, and scientists from around the world, is once again excited to announce the latest scholarship opportunity in their recently-launched college scholarship program.
After seeing great success with their Spring STEM Scholarship and Summer Textbook scholarship, LabRoots is again offering a scholarship award to a worthy student seeking a career in science, technology, engineering, or mathematics (STEM) fields.
This will again be a merit-based scholarship and is open to all students 17-years or older, including high school seniors, undergraduates, and graduate students. The Fall STEM Scholarship will award one student $2,000 to aid in the cost associated with their academic pursuits, including tuition, books, research projects, training, etc.
Applications period will open September 1, 2017, and close November 30, 2017. Once applications are in, the LabRoots scholarship committee will review all applicants, notifying the winner no later than December 15 via email. To apply, students need only submit their resume, CV or transcript, an a 250-word essay.
LabRoots has always emphasized collaboration through digital innovation, becoming a primary source for current scientific news, webinars, virtual conferences and more. This scholarship program aims to encourage and develop students' interest in STEM, prolong research goals, and elevate STEM in schools.
Eager to extend that to the next generation of innovators, LabRoots supports young students pursuing degrees in the STEM disciplines. Parents, teachers, counselors or students interesting in applying for this scholarship, please visit the LabRoots site here.
ABOUT LABROOTS
LabRoots is the leading scientific social networking website and producer of educational virtual events and webinars. Contributing to the advancement of science through content sharing capabilities, LabRoots is a powerful advocate in amplifying global networks and communities. Founded in 2008, LabRoots emphasizes digital innovation in scientific collaboration and learning, and is a primary source for current scientific news, webinars, virtual conferences, and more. LabRoots has grown into the world's largest series of virtual events within the Life Sciences and Clinical Diagnostics community.