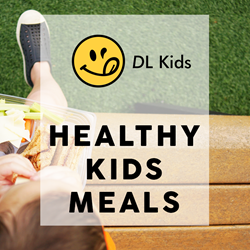 Keeping our kids healthy is our #1 concern, so we set out to create easy, fast, delicious and healthy meals.
Miami, FL (PRWEB) August 30, 2017
DeliverLean, Florida's premier healthy gourmet meal delivery service, will begin offering DL Kids, meal plans for kids 6-years old and older on August 28th. Packed with lean proteins, veggies, whole grains, healthy fats, and fresh fruits, these meal options are designed to make parents' lives easier while their kids eat healthier.
"Parents are busy and we recognize that," said DeliverLean CEO and Founder Scott Harris. "Keeping our kids healthy is our #1 concern, so we set out to create easy, fast, delicious and healthy meals. DeliverLean's new kid's line will make sure that parents and kids on the go do not need to sacrifice healthy food for quick convenience – not to mention kids will love the many options we have developed for them."
DL Kids meals range between 350-600 calories and based on a 1200-1600 calories-per-day diet healthy for most kids. They include 10-30% calories from protein, 25-35% calories from fat and 35-65% calories from carbs. Some meal options that will be available are:
Breakfast

Strawberry, Banana & Granola Wrap w/ Almond Butter & Coconut Yogurt Cup
Bagel & Cream Cheese Box
Mixed Berry Yogurt & Granola Parfait
Melon & Grapes Cup
Lunch

Adobo Marinated Grilled Chicken Sandwich w/ Monterey Jack, Avocado Mayo, Pico De Gallo & Watermelon Cubes
Crunchy Ground Beef Tacos w/ Lettuce, Tomato, Cheese & Lime Greek Yogurt
Roasted Turkey & White Cheddar Cheese on Multigrain Ciabatta, Roasted Tomato, Jicama-Carrot Slaw
Grilled Turkey Dog, Dill Relish, Whole Wheat Bun w/ Corn & Green Bean Salad
Dinner

Baked Romano Chicken Cutlet over Rainbow Pasta w/ Linguine, Carrot & Zucchini "Noodles" & Cherry Tomatoes
Chicken Teriyaki Stir Fry w/ Brown Rice & Glazed Baby Vegetables
BBQ Pork & Pineapple Skewers w/ Quinoa Pilaf & Green Bean Medley
Hearty Shells & Cheese w/ Broccoli & Chicken
Snack

Almond Butter & Jelly Bento Box
Chicken Salad Bento Box w/ Cucumbers, Grapes & Whole Wheat Pita
Veggies & Ranch Box
Cheese & Crackers Box
DL Kids Meals are available to existing customers in their online Member's Portal. Kids meals can also be purchased if you are not an existing DeliverLean customer. In this case, the guidelines are:
Minimum order per delivery day: 2 meals and 1 snack
$7.95 for entrees, wraps and sandwiches
$5.95 for fruit cups, snack boxes and parfaits
Weekly, bi-weekly or monthly billing options
As a back to school special, DeliverLean will offer customers $1 off every meal when they sign up for three months of service.
About DeliverLean
DeliverLean is a healthy gourmet meal delivery service that specializes in serving a wide variety of dietary requirements. With four meal plans to choose from, including Classic, Paleo, Vegetarian and Vegan, all meals come complete with freshly prepared food ranging from 300-500 calories each. DeliverLean's proprietary Choose Your Meals feature allows customers to build their own menu meal-by-meal, week-by-week with selections from all meal plans, giving the customer flexibility to choose from over 150 different menu items weekly, for a completely customized approach. DeliverLean also features a complete line of healthy snacks and desserts, OnJuice cold-pressed organic juices and cleanses, and DLrevAMP, the first USDA Certified Organic plant based food detox program and DL Marketplace, a brand new grab and go salad and sandwich program avauilable to all customers. DeliverLean also has a corporate wellness division and they deliver healthy lunches and catering options to companies.
Follow DeliverLean on Facebook, Instagram and Twitter for daily giveaways and helpful tips to stay healthy.