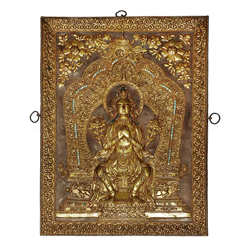 "We have done a great deal of research on the Buddhist art. Their counterparts can be viewed in museums around the world." Kwong Lum, Founder/President, Gianguan Auctions.
New York, NY (PRWEB) August 31, 2017
Gianguan Auctions opens the fall round of Asian art sales with a strong collection of Buddhist art that reflects not only the focus of the faithful but also the history of the religious phenomenon that migrated from India to China, possibly as early as the second century BC. While Buddhist paintings lead the day, it is the gilt bronze, stone, and lacquer representations of the important Chinese bodhisattvas, Avalokiteshvara (Guanyin) and Manjushri (Wenshu), that are the instantly recognizable icons of Buddhist art. Both hold a significant place in Gianguan's September 9 sale.
A magnificent allegorical ink-on-paper entitled "The Wandering Mallard" by Zhu Da (Bada Shanren), the Qing Dynasty painter of royal descent who took refuge in a monastery and became a monk, is the day's marque property. Exquisite in its full-bleed background of dark brown with the singular duck, tree and rockery rendered in black, it is signed Bada Shanren and bears one artist seal. It is Lot 107, expected to command upwards of $600,000.
Wang Hui, whose Qing era works were seen at the Metropolitan Museum of Art's 2008 exhibition "Landscapes Clear and Radiant: The Art of Wang Hui (1632-1717)," delivers a bold, academic depiction of a "Mountain Temple" nestled in the rolling peaks of brown, green and subtle red. Lot 192 will fetch upwards of $100,000.
Another meditative painting is Dai Jin's "Four Panels of Buddha." A Ming work, it is executed in Zhe School (Southern Song) style with frontispiece by Wang Zuxi and colophon by Yu Yue. Lot 100, it is valued at more than $30,000.
Highlighting the statues and altarpieces is Gianguan Auctions' catalog cover lot–a 2-foot tall, gray-stone Guanyin (the embodiment of the virtue of compassion) seated in dhyanasana. Its monastic shawl and bare chest carved are in the Western Wei (386-535 CE) manner of clothing deities in Chinese scholar's robes. It weighs 100-pounds. Similarly, an Eastern Wei (534-550 CE) Guanyin, also of gray stone, is a slender standing, somewhat flattened figure in sinuous draped robes that fall above the feet in a high-low profile. It is3-feet tall, 60-pounds. Lots 265 and 268 respectively are valued at $50,000 - $60,000.
The Tibetan highlight is a late 13th or early 14th C. gilt bronze frieze of repoussé and chasing that honors Avalokiteshvara seated in dharmachakra on a stepped throne. Coral, turquoise and lapis decorate the stupa. The mantra Om A Hum is engraved on the back. Although the monastery it once graced is unknown, the frieze is reminiscent of items seen in Asia Society's 2014 exhibition "Golden Visions of Densatil, A Tibetan Buddhist Monastery." Lot 270, $40,000-$60,000.
The casting expertise of Qing artisans is on full display iin the 10" tall, 34-arm casting of Vajrabhairava Yamantaka in his role as Manjushri (the personification of profound spiritual wisdom). Two moveable arms grasp his consort while the fixed arms wield weapons. Individually cast and then assembled, this gilt bronze figure is Lot 272, expected to fetch $40,000-$60,000.
The auction also features several entry level statues from a variety of periods that make appropriate home altar items. Among these are three exceptional Ming figures of different media. Lot 262 is a gilt bronze seated Luohan holding an elixir cup. Lot 266 is a carved gilt lacquer wood figure of Bodhisattva that retains some blue and red pigment. And Lot 267 is a rare lacquered gilt bronze seated Avalokitesvara atop a high plinth. Over all estimates are $3,000 to $10,000.
The Buddhist paintings and statues, along with a deep collection of Chinese signature seals and Chinese ceramics, can be viewed at http://www.GianguanAuctions.com. The gallery at 39 W. 56th Street is open for previews starting on Wednesday, August 30 and continuing through Friday, September 8. The sale will be conducted live on Saturday, September 9. Bidding is currently underway at http://www.liveauctioneers.com and http://www.epailive.com.
Condition reports and further information may be obtained by calling the gallery or emailing info@gianguanauctions.com.