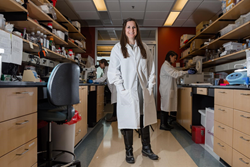 "These initial responses are very exciting and make us hopeful that this therapy will improve outcomes for this deadly disease."
PORTLAND, Ore. (PRWEB) August 31, 2017
A first-of-its-kind clinical study may offer new hope to patients battling rectal cancer.
The Phase 2 study, newly underway at Providence Cancer Center, is led by Kristina Young, M.D., Ph.D., who was recognized in 2016 as one of 15 most promising young researchers in the nation by the Sidney Kimmel Foundation for Cancer Research.
The trial is open to patients with Stage 2 and higher rectal cancer who are slated to undergo the standard treatment of radiation and chemotherapy prior to surgery. The clinical trial adds an additional component to the pre-surgery radiation/chemotherapy regimen – immunotherapy. It is administered in the form of daily pills for two weeks prior to radiation and chemotherapy, and then during that treatment as well.
Radiation and chemotherapy treatments are given prior to surgery with the hope they will shrink the tumor slightly. Dr. Young's pre-clinical research suggests adding the immunotherapy protocol will increase shrinkage of the tumor. Young is working with Galunisertib, a drug under development by Eli Lilly and Company. She describes the drug as helping the body rev up the immune system to fight the cancer.
The first three patients to participate in the clinical trial have shown a "dramatic response," according to Dr. Young. One patient's tumor completely disappeared, while the two other patients had more than a 75 percent decrease in tumor size, with equally impressive responses in the lymph nodes.
"These initial responses are very exciting and make us hopeful that this therapy will improve outcomes for this deadly disease," said Dr. Young.
The Phase 2 clinical trial will enroll 50 patients. If the tumors of at least 18 patients disappear, that would more than double the typical response of chemotherapy and radiation, and would be seen as contributing to the success of the trial.
This trial is a continuation of Dr. Young's post-doctoral work on modifying the tumor microenvironment in combination with radiation to improve the outcome for patients with rectal cancer. When Dr. Young was honored with the Kimmel Scholar Award last year, the recognition came with a two-year, $200,000 grant to further her work on harnessing the patient's own immune system to eradicate cancer. The funding allowed her to further investigate each patient's immune response to their tumor while enrolled in this trial. This particular type of immunotherapy has great potential for use across many tumor types. "We are working on writing clinical trials in breast and head and neck cancer, which have shown promising results in the lab," said Dr. Young.
Learn more about the clinical trial here or call 503-215-2614.
Dr. Young is a radiation oncologist with The Oregon Clinic and an Assistant Member at the Robert W. Franz Cancer Research Center in the Earle A. Chiles Research Institute at Providence Cancer Center.