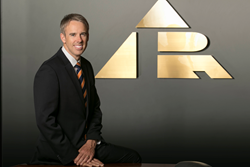 Appointing Mike ... leverages his deep knowledge of the company and his many years of experience as a broker and business professional
SARATOGA, Calif. (PRWEB) August 29, 2017
With a 27-year track record of market leadership and success, Alain Pinel Realtors (APR) today announces its next generation of leadership by appointing Mike Hulme as its new president. Hulme, son of company Founder & CEO Paul Hulme, has been with APR since 1992.
"Appointing Mike to the role of president leverages his deep knowledge of the company and his many years of experience as a broker and business professional," noted Paul Hulme. "As the market adapts to emerging trends and new realities, Mike's fresh perspective and ideas will position us well for continued growth and success in the years ahead."
Serving most recently as the company's director of corporate operations, as well as a member of the executive leadership committee, Mike Hulme also serves in management and on operating committees of other family-owned businesses. He earned his bachelor's in business management from Utah Valley University.
Paul Hulme will assume the role of chairman of APR, in addition to retaining his position as CEO and an active member of the executive leadership committee.
"I've been fortunate to have a front-row seat to APR's evolution from a single office to one of the most influential brokerages in California real estate," said Mike Hulme. "It's my intention to honor that legacy. I'm grateful for, and humbled by, the challenge before me of leading this company into the future."
About Alain Pinel Realtors®
Alain Pinel Realtors (APR) is the largest privately owned residential real estate company in Northern California and is consistently ranked among the top 10 largest residential real estate firms in the United States based on closed-sales volume. The firm has 1,400 agents in more than 30 offices throughout Northern California. APR was founded in 1990 by Chairman and CEO Paul L. Hulme, and is based in Saratoga, Calif. Visit us at apr.com, china.apr.com, facebook.com/AlainPinelRealtors, and @AlainPinel.