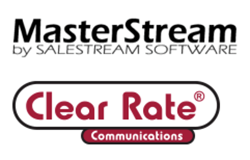 "Clear Rate has always enabled our agent partners to win more opportunities and deliver superior service, so making our services available in the MasterStream Cloud ecosystem was an easy choice." - Jake Mahoney, Marketing Director at Clear Rate
Corona, CA (PRWEB) August 30, 2017
Salestream Software, Inc., today announced that Clear Rate Communications will be joining its MasterStream Cloud ecosystem for agent users. Agents using the MasterStream-MX platform now have access to Clear Rate's robust internet offerings in Michigan and across the country. With an extensive network across a variety of access types, including a fast-growing fiber footprint, Clear Rate's reach will provide qualified agents with high-quality, competitively priced internet options when they request quotes through their MasterStream portals.
"The addition of Clear Rate Communications to the MasterStream Cloud ecosystem provides a huge benefit to a large number of our agent users, especially those that quote services in Michigan," said Chris Gellos, Salestream's EVP Sales & Marketing. "As the demand for internet services continues to increase, agents are constantly looking for reputable providers who can deliver quality internet at great rates. Clear Rate has been doing that for years, so we're excited to have them on board."
"Clear Rate Communications has always enabled our agent partners to win more opportunities and deliver superior service, so making our services available in the MasterStream Cloud ecosystem was an easy choice," says Jake Mahoney, Marketing Director at Clear Rate. "And with great add-ons like 4G LTE Failover, Managed WiFi, and Cloud Servers, MasterStream-MX agents will be able to solve more of their customers' problems while increasing their monthly revenue."
About Clear Rate Communications
Clear Rate Communications is an innovative telecommunications company that provides voice, internet, cloud, and managed IT services to over 27,000 residential and business customers throughout the Midwest, Mid-Atlantic, and nationwide. Headquartered in Troy, Michigan, Clear Rate is trusted by police departments, fire departments, school districts, hospitals, banks, and many other businesses and organizations to deliver fast, reliable communications and cutting edge, productivity-boosting IT services.
Contact:
Clear Rate News
877-877-4799
news(at)clearrate(dot)com
http://www.clearrate.com
About Salestream Software
Salestream Software provides superior automation solutions to the telecom and VAR industry. With its MasterStream™ family of hosted automation services telecom service providers and master agents alike automate all of their processes related to the management of partners, opportunities, quotes, orders, commissions, and other back-office operations. With MasterStream™, telecom agents and providers can support far more partners, process more sales and orders with far fewer resources than any other support system will allow.
Contact:
Dianna Gearhiser
509-595-5233
dgearhiser(at)salestreamsoft(dot)com
http://www.salestreamsoft.com