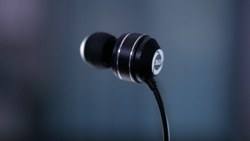 With our patented technology, we've combined our own electro-acoustic theory and electro-acoustic materials to produce sound the way it was created.
LOS ANGELES, Calif. (PRWEB) August 31, 2017
360 in-ear headphones, created with a patented technology to deliver the truest sound for movies, sports, music and gaming, are available now on the crowdfunding website Kickstarter.
"This is how headphones will be built in the future," said Emmy Award winning film sound designer, Chris Julian. "With the 360, we've created an acoustic chamber that imitates a room, where high frequencies are not assaulting your eardrums and a natural balance is established."
360 Founder Calvin Wang says his team has redesigned the mechanical structure of earbuds, using a new, patented technology that is "leaps and bounds" ahead of the basic structure being used in earbuds on the market today.
"With our patented technology, we've combined our own electro-acoustic theory and electro-acoustic materials to produce sound the way it was created," Wang said.
Julian adds that, because of this design, 360 in-ear headphones are capable of reproducing sounds in three dimensions much more accurately than stereo.
Wang says part of the team's patented technology focused on the mechanical structure of the 360 earbuds, which they treated as "any other musical instrument to be designed, shaped and built" to produce a particular output.
"We took the same concept and applied it to the earbud, making 360 an instrument for listening," Wang said. "360 earbud technology has been 10 years in the making with research and development, and crowdfunders will be the first to hear the true sound they deliver."
360 earbuds were designed with a 5-Frequency Divider, meaning the frequencies are clearly separated to provide clarity and a 3D Virtual 5.1 Surround Sound – allowing music lovers to hear every aspect of the output produced as all the sounds are distributed in distinct channels, providing amazing fidelity.
360 earbuds also offer the best frequency range, from 8Hz-20 KHz. While the limit of human hearing is 20Hz, anything below can be felt as energy as a deep rumble or vibration. These low frequencies are usually realized in subwoofer systems, which the 360 team has packed into a portable, earbud format.
"These Infrasonic frequencies develop in the back cavity, allowing you to hear the clearest bass you will ever hear in an earbud," Wang said. "By using a viscoelastic material and mechanical structure, frequencies are refined to produce clear output. This material is unique to 360 earbuds and represents part of our redesign and thinking outside the box while re-engineering the traditional earbud."
Other features include a built-in microphone and button, providing crystal clarity on every phone call – and the ability to control the audio level.
The team that created the 360 in-ear headphones have more than 40 years of combined experience in the audio industry.
"Whether you're watching a movie or a game, immersed in VR or gaming, or listening to music, you want the bass
response to give you the kick, and our 360 will provide the bass response you've ever heard before with earbuds," Wang said. "We believe you'll be astonished when you get your first pair of 360 – and the way you listen will be changed forever."
For more information on the revolutionary 360 earbuds, or to purchase a pair at an early-bird discount price during crowdfunding, visit the 360 Earbud Campaign Page on Kickstarter.