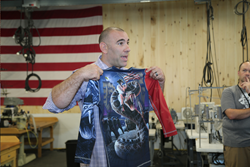 Farmington, Maine (PRWEB) August 29, 2017
Old is new again, and Origin USA has disrupted the martial arts apparel market, in which a majority of the training uniforms are sourced overseas from Pakistan or China. Led by the vision of Pete Roberts, Origin USA restructured five years ago under the commitment to 100% sourcing, labor, and final production entirely in the USA.
Cotton from Tennessee, proprietary weaves, skilled workers, salvaged looms and the latest embroidery machines fill the newly expanded 20,000 sq. ft. New England factory. It's music to the ears of Pete Roberts, who is bringing his vision into reality. "It wasn't easy in the beginning, but we just couldn't send money overseas anymore," said Roberts. "What we knew is that it had been done before, so why can't it be done again?"
Growing up in a generation where the common sentiment was that you can't complete with imports, American manufacturing is dead, and companies are only focused on profit margin – Roberts's vision met many skeptics. However, that didn't stop him. "We began by walking through the woods with a roll of orange flagging tape, marking where we were going to build our first factory," recalls Roberts. "Then I scoured New England, and found the machinery, and the one guy who knew how to operate and repair it all, and we just started."
Now, a short five years after building their first home-grown factory, Roberts and team have accomplished growth to well over $1 million in yearly revenue over the last 12 months, and report that Origin USA is poised for exponential growth. Origin USA will be doubling their employee count, tripling production, and entering some new markets in the next year, according to Roberts. Origin USA employs skilled workers for their textile machinery, embroidery and cutting machines. They have trained sewing machine operators and other production/finishing employees who have learned these heritage skills through employment with Origin USA.
Roberts believes they have found the right formula in "true vertical manufacturing" (a term Roberts coined) – sourcing in the U.S. and going "from field to finish" while employing American workers, and still successfully taking market share from cheaper, overseas producers. How has he been able to make it work where so many before had abandoned the Made-in-the-USA model? "Commitment, Team, Innovation, and Grit," Roberts explains. "I was committed to making it happen, found the right team and resources to do so, and innovated the process where it needed to be altered for success."
About Origin USA (http://www.originmaine.com)
Origin USA is a "true vertical" manufacturer and global distributor of training and lifestyle gear, with their roots in the grappling and mixed martial arts industry. Founded in 2011 and refocused in 2013, Origin is the only Made-in-the-USA manufacturer in their space. They have a loyal following of 17,000 customers worldwide and more than 90,000 social media fans. Not only has Origin achieved astounding and continued growth, they have done it while remaining committed to sourcing and manufacturing 100% in the USA. Origin USA is also comprised of Origin Labs which provides nutritional supplements to optimize performance in sports, fitness, martial arts, and life.
About Pete Roberts
Pete Roberts is a Maine native with a true, American entrepreneurial spirit. Pete is the President of Origin BJJ, Origin Labs, BJJ Weekly, (a globally distributed lifestyle magazine) and is a new partner in Jocko Industries. He is also an entrepreneur with more than 20 years in branding, marketing, design and product development.
Media Contact: Nicole Beach 301-573-3148, nbeach17(at)gmail.com