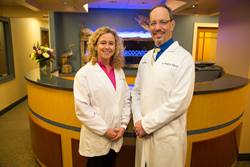 New London, CT (PRWEB) August 30, 2017
Drs. Gregory Toback and Marianne Urbanski, periodontists with Shoreline Periodontics, now offer the latest, state-of-the-art technology for precise computer-guided dental implant placement. Navident offers a breakthrough in highly accurate, virtually guided implant surgery. Shoreline Periodontics is now accepting new patients with missing teeth in need of dental implants in New London, CT and Westerly, RI to receive convenient, long-lasting treatment.
Drs. Toback and Urbanski, respected periodontists, use computer-aided Navident technology to prepare and place dental implants in New London, CT and Westerly, RI. Before treatment begins, a quick, in-office visit allows the team to capture the current state of each patient's unique oral structures. A fabricated stent and detailed scan using a cone beam CT scanner are combined and used to digitally plan each implant surgery. The plan is generated within a few minutes and can be modified at any time. Once the ideal surgical plan is crafted, the same plan is then used as a guide for the surgery. During the surgery, Navident is present every step of the way and shows the drill tip or implant in the jaw while also highlighting the surrounding structures such as nerves and blood vessels.
The team at Shoreline Periodontics understands that this technology increases the accuracy of implant placement. Dr. Toback remarks, "Bringing technology from neurosurgery, with Navident we're able to place implants with accuracies never before possible and are able to get that dynamic feedback during the surgery so we know about angulation, depth, and what's happening in real time." Coupled with the experience of dental implant specialists, like Drs. Toback and Urbanski, this technology is also used to reduce the risk of infection and increase recovery times.
Authorities in periodontology, Drs. Toback and Urbanski have been offering guided implant surgery for many years. However, they are excited for this new technology to further improve the care of their patients. Patients interested in dental implants in New London, CT, can contact Shoreline Periodontics by calling 860-443-2428 or by visiting their website at http://www.shorelineperio.com.
About the Practice
Shoreline Periodontics is a periodontal practice offering personalized dental care for patients since 1998 and is located in New London, CT and Westerly, RI. Leading board-certified periodontist, Dr. Gregory A. Toback, received his B.A. from St. John's University and his Doctorate of Dental Medicine from the University of Connecticut. He also received advanced training in periodontics and dental implants at the University of Texas Health Science Center in San Antonio. Dr. Toback focuses on minimally invasive surgeries, offering the LANAP® protocol and belongs to a small group of dental professionals currently providing the Chao Pinhole Surgical Technique™ for treatment of gum recession. Dr. Marianne Urbanski has been voted one of Connecticut's top dentists for more than seven years by Connecticut Magazine. Dr. Urbanski graduated cum laude from the College of Holy Cross in Worcester, Massachusetts where she earned a Bachelors' degree in Biology. She also received her Doctor of Dental Medicine degree and her Masters' of Dental Science degree from the University of Connecticut Dental School. Dr. Urbanski prides herself on offering caring, professional care to each patient. To learn more about Shoreline Periodontics and their dental services visit their website at http://www.shorelineperio.com or call 860-443-2428 for the New London, CT location, or 401-596-0000 for the Westerly, RI office.