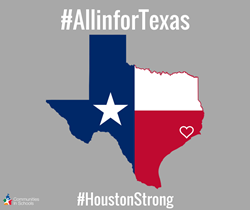 Arlington, Va. (PRWEB) August 29, 2017
Communities In Schools (CIS) has announced the creation of the All In For Texas Relief Fund to support CIS affiliates who have suffered losses as a result of Hurricane Harvey. The Relief Fund is being launched with an initial pledge of $500,000 by an anonymous donor in honor of the late Texas Governor Mark White and his widow, Linda Gale White, long-time supporters of CIS.
CIS, a national network of affiliates working inside district and charter schools to empower at-risk students to stay in school, has 10 affiliates along the Texas Gulf Coast that have been impacted by the storm including:

An eleventh affiliate, CIS of Cameron County, was also impacted by the storm but has chosen not to participate in the fund at this time so that others have added resources.
Together, those CIS affiliates employ 335 caring professionals who work inside schools with a total enrollment in excess of 330,000 students each year. The Relief Fund will provide essential emergency services and long-term support for those affiliates, allowing them to resume work supporting students and their families. CIS employees impacted by the storm are also eligible for assistance.
"Our hearts go out to the students, families and communities affected by Hurricane Harvey," said CIS National President and CEO Dale Erquiaga. "Given the scale of this disaster, we know they will require considerable resources to recover and rebuild. We hope this fund and the initial generous donation will help us provide the essential support our kids will need to go back to school and begin building a brighter future for themselves and their communities. The CIS family is all in for Texas."
To support the All In For Texas Relief Fund, visit http://www.communitiesinschools.org/harvey-relief-fund/