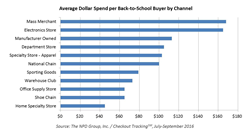 "Back-to-school marketing is noisier than school recess, and getting the attention of this shopper is just the beginning," said Marshal Cohen, chief industry analyst, The NPD Group, Inc.
Port Washington, New York (PRWEB) August 30, 2017
The back-to-school shopping season isn't about one-stop shopping, reports The NPD Group, a leading global information company. Back-to-school shoppers make an average of 16 trips to purchase back-to-school related products between July and September, according to NPD's receipt mining service, Checkout Tracking SM.
Retailers are competing across a crowd of product categories for a fraction of each back-to-school shopper's spending. A third of consumers who made purchases between July and September 2016 were back-to-school shoppers – making purchases in product categories related to back-to-school or back-to-college needs. NPD's Checkout Tracking information revealed that, during the 16 shopping visits made, on average those shoppers spent $492 on things like apparel, footwear, office supplies, technology, sports equipment, appliances, housewares, and home textiles.
Almost all back-to-school shoppers purchased a back-to-school item at a mass merchant last year, and they spent the most at mass merchants and electronics stores, each with an average spend per buyer that was more than $160 for the season.
Repeat visits to a retailer aren't out of the question, but they are not plentiful. During the 2016 season, the 16 back-to-school shopping trips made by shoppers were spread out over an average of seven different retailers, according to NPD's Checkout Tracking service.
"Back-to-school marketing is noisier than school recess, and getting the attention of this shopper is just the beginning," said Marshal Cohen, chief industry analyst, The NPD Group, Inc. "Retailers will fare well if they extend the shopping season and nurture their relationship with the back-to-school consumer, ensuring they stay top of mind and get the repeat visit later in the season."
Source: The NPD Group, Inc. / Checkout TrackingSM, July-September 2016
Back-to-School Shopper: A buyer with children in the household who purchased a back-to-school category from any retailer during the time period
Back-to-School Categories: Apparel, Accessories, Appliances, Footwear, Home Textiles, Housewares, Technology (excluding Office Supplies), Office Supplies, or Sports Equipment
Back-to-School Purchases: Purchases made of back-to-school categories by back-to-school buyers
-##-
About The NPD Group, Inc.
NPD is the leading global provider of market information and business solutions covering brick-and-mortar, e-commerce, and emerging channels in more than 20 industries. We combine our unique data assets with analytic solutions to help our clients measure performance, predict trends, and improve results, advising them to help drive successful growth. Practice areas include apparel, appliances, automotive, beauty, books, consumer electronics, diamonds, e-commerce, entertainment, fashion accessories, food consumption, foodservice, footwear, home, juvenile products, mobile, office supplies, retail, sports, technology, toys, travel retail, games, and watches / jewelry. For more information, visit npd.com. Follow us on Twitter: @npdgroup
Checkout TrackingSM provides detailed information on consumer buying behavior, based on receipts for both online and brick-and-mortar retail purchases from the same consumers over time. Checkout Tracking delivers precise category, brand, and item-level purchase detail linked to buyers and their demographics, useful for analyzing competitive market baskets and identifying purchase patterns. Information is collected from more than 50,000 consumers from NPD's receipt-harvesting mobile phone app and the scanning of more than 4 million in-boxes for e-receipts through Slice Intelligence.