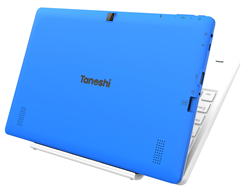 Tanoshi is the first computer that provides the full age-appropriate Android user experience for today's 'digital native' kids
Fremont, CA (PRWEB) August 30, 2017
Today Tanoshi unveiled an early preview of Tanoshi 2-in-1, the world's first computer with the Family Link app from Google pre-installed. Taking its name from the Japanese word for "Fun", Tanoshi is a fun, safe, educational and affordable 2-in-1 (tablet + detachable keyboard) Android computer for children ages 6-12 with free parental supervision features built in and pre-loaded with age-appropriate educational apps like Nancy Drew®: Codes & Clues®, Toontastic, Google Docs and Sheets.
The Google Family Link app allows parents to better oversee their child's device activities, including approving or denying new app installs, managing daily screen time, setting a device bedtime, and personalizing a child's device settings—and it is completely free of charge. Parents can do this all remotely from their Android or iOS smartphone.*
While there are other tablets and computers catering to kids on the market today, they are mostly very feature and content limited and don't provide age-appropriate access to Google Play Store. Current kid tablets are designed for very young children. On the other side of the spectrum, mainstream computers and tablets are designed for ages 13+ and don't include a quick and simple out-of-the-box parental control setup. Most require parents to go through time consuming, and often confusing, process of finding, setting up and modifying parental supervision functionality.
With the reliable, fast, and secure Android 7.0 Nougat, a 10.1" HD touchscreen, a full-size keyboard, and Family Link device management features, Tanoshi is the first computer that provides the full age-appropriate Android user experience for today's 'digital native' kids.
Tanoshi for future leaders
Today 90% of parents want their children to learn computer programming skills – the largest number of new jobs in the future will require them [1]. By 2020, roughly 1 million coding jobs will go unfilled, according to the Bureau of Labor Statistics. Furthermore, the number of unfilled jobs in computer science is expected to continue rising in the foreseeable future. Yet only 40% of all K-12 schools in the US offer computer science classes [2]. At the same time, today's Internet is relatively unfiltered, which raises concerns among parents about what their children may encounter online. According to Pew Research, 84% of parents believe there is a need to monitor or restrict their child's online activities.
The Tanoshi team created the new 2-in-1 device because they believe today's computers and education system have not kept up with the needs of today's youth. The Tanoshi 2-in-1 comes as a solution to help busy parents to easily manage device settings and find great learning apps for their children, including fun learn to code apps.
"At Tanoshi we believe that developing computer skills, including programming, is key to a brighter future," said Brad Johnston, CEO and Co-founder of Tanoshi. – "We started Tanoshi thinking of underprivileged families that want their children to have equal opportunities to develop tech skills, but lack sufficient access."
"In this generation, it is important to start a child early in learning computer skills. I highly recommend Tanoshi kids computers," - said Steven Lee, CEO of WhizKidz Computer Center, an advisor to Tanoshi.
"HeR Interactive is thrilled to have our award-winning app, Nancy Drew: Codes & Clues, included in the Tanoshi 2-in-1 computer for kids," said Penny Milliken, CEO. "In Nancy Drew: Codes & Clues, kids will be introduced to basic coding concepts and also develop reading and critical thinking skills as they find clues and code their robot puppy in this fun story-based hidden object mystery game."
Main characteristics:

Tanoshi is fun. The Tanoshi 2-in-1 comes in white with two different color cover options – blue or pink, and features a 2MP front camera and a 5MP rear facing camera for taking selfies and creating fun videos. The Tanoshi 2-in-1 also includes a big 10.1" HD touchscreen, dual stereo speakers, emoji shortcut buttons, and comes preloaded with Play Store, Chrome Browser, YouTube Kids, Toontastic, etc.
Tanoshi is a great learning tool. With full computer functionality (big screen + physical keyboard), Tanoshi is a great tool for school work and self-study. The 2-in-1 comes pre-loaded with apps that can be used at home or in the classroom, including apps to help with math, coding, research, geography, reading and writing, like Nancy Drew: Codes & Clues, and popular Google apps including Docs, Sheets, Calculator, Maps, Earth, Gmail, etc. Additional educational apps will be announced soon.
The Tanoshi 2-in-1 comes with 2GB of RAM and features 32GB of built-in storage, plus a micro SD card slot to store even more. The 5000 mAh battery provides hours of mobile power. The device features a 64-bit Quad Core Processor and comes with two USB ports (USB and micro USB). A plastic-covered touchscreen adds extra protection from accidental falls and scratches.
Tanoshi helps parents address safety concerns. Thanks to built-in features that allow adults to easily manage their kids' Tanoshi 2-in-1 device settings, children are less likely to download inappropriate apps or encounter negative online experiences.
Tanoshi is affordable. Tanoshi's retail price starts at $199.99 and the parental device management features are completely FREE, as opposed to other devices on the market that often require monthly subscription fees for parental control software from day 1 or after a limited grace period.
Tanoshi will be launching a Kickstarter campaign to take pre-orders of Tanoshi 2-in-1 on September 14, 2017. Interested parties can sign up for updates and enter a giveaway to win a Tanoshi computer before they can buy one at http://www.TanoshiKidsComputers.com.
About Tanoshi
Tanoshi is a Silicon Valley startup founded in 2015 by Brad Johnston, a former product manager at Vizio and Toshiba, teacher, tutor and Rotary Scholar, with a mission to create fun and educational computing products that kids love to use. Tanoshi is driven by the belief that every child deserves an equal opportunity to have access to an age-appropriate computer and develop skills that will be essential for future careers. The Tanoshi team consists of professionals in consumer electronics, software development, mobile and education who have worked at Google, Apple, HP, Toshiba, The Walt Disney Company, Berlitz and other industry leaders. Tanoshi is based in Fremont, CA.
Find out more about Tanoshi at http://www.TanoshiKidsComputers.com
Media Contact
Galina Shmeleva
pr (at) tanoshiinc.com
+1.415.465.0938
____________________

Compatible with Android 4.4 or later, or iOS 9 or later
[1] Source: Code.org.
[2] Source: Code.org.