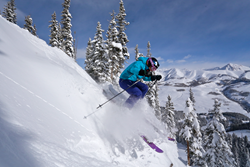 Crested Butte, CO (PRWEB) August 30, 2017
The aspens are starting to turn golden. Days are getting shorter. There has been a slight chill in the morning for weeks. The first Powder Magazine of the season just showed up in the mailbox. Although the mountain biking is still great, winter stoke is on the rise.
In celebration of the changing seasons, Gunnison-Crested Butte is proud to announce the best ski deal of the season in the entire Rocky Mountain West. Fly through Denver straight to the Gunnison-Crested Butte Regional Airport January 1-February 8, 2018 from any airport in NY, NJ, and New England; CA, OR, WA, or AZ. Book through Gunnison-Crested Butte Reservations starting Monday August 28, and receive:

4 Nights of Lodging and 3 Days of Skiing for as low as $270 per person* staying in Gunnison, $385 per person* staying in Crested Butte, OR $440 per person* staying in Mt. Crested Butte.
A $300 Airfare Credit per person* for your flight.
CALL (866) 348-0864 TO BOOK
This deal is only available for a limited time so book now to grab the best deal of the season.
Crested Butte is located at the end of the road in a remote section of Colorado's West Elk Mountains. The mountain is rugged, steep, and rocky. While the mountain has enough beginner and intermediate terrain to keep most beginner and intermediate skiers happy and occupied for the better part of a week, where Crested Butte really shines is in its steep terrain. January is historically the snowiest month of the year at Crested Butte Mountain Resort so come and see what this iconic mountain has to offer.
The Fine Print
This deal is only available to passengers originating from airports in the following states: NY, NJ, and New England; CA, OR, WA, AZ and flying through Denver (DEN) to Gunnison-Crested Butte (GUC) on United Airlines. Inbound travel must occur between January 1, 2018 and February 8, 2018. Minimum of 4 nights lodging and 3 days skiing required, additional lodging and skiing may be purchased. While supplies last. Per person rates are based on double occupancy and do not include taxes and fees.