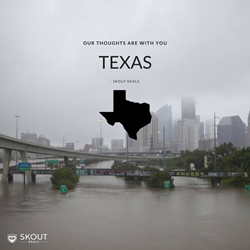 We're just hoping to make a bit of a difference any way we can and support our fellow Texans in Austin, Houston and surrounding areas.
Austin, Texas (PRWEB) August 30, 2017
Skout Deals has made the commitment to donate $.25 cents to Austin Pets Alive! for everyone who downloads and registers on the app through September 9th. The Skout Deals app can be downloaded for free on iOS in the App Store or on Android from the Google Play Store. "Our minimum goal is to get 80,000 app downloads to really make a big impact, but wouldn't it be great if we got a million and were able to donate $250,000?" says Bryan Payne, Founder and CEO of Skout Deals.
According to the APA website, there has been an overflow of incoming animals at Austin Pets Alive!, a local pet rescue shelter. Over 235 pets have been transported within the past couple of days from shelters or cities in direct path of Hurricane Harvey.
"When reading about the intake process for these pets and the cost being $20,000 alone, and hearing APA was putting out a call for financial support, my team and I brainstormed how we could help. Our goal is to raise the entire $20,000 that they need and hopefully more," said Bryan. "We're just hoping to make a bit of a difference any way we can and support our fellow Texans in Austin, Houston, and surrounding areas."
In addition, Skout Deals is allowing individuals and local businesses to post deals and free stuff on the app at no cost to offer assistance or help to Hurricane Harvey victims. Whether you're offering free food or clothing for families who may be in need, Skout Deals is providing people in the Houston area and surrounding cities the capability to utilize the Skout Deals app to really help others. It's all in an effort to help people find what they need and also share what they have with others locally.
"We really want to help people connect with other people and businesses that want to help. It's definitely outside of our regular business model, but it is something we feel compelled to do to help," said Bryan Payne. "Whether it's a case of water for free or if you're offering a room for a family to find safety, we want you to post it on our app."
Businesses or individuals can go to SkoutDeals.com and click "Post deals for Free" to post items they have available to assist those affected.
Skout Deals recommends posting, clothes, food, housing, equipment and more. Whatever items you have available to share, post it on the app and connect with others who need it.
For more information about the campaign visit http://www.skoutdeals.com/houston-relief