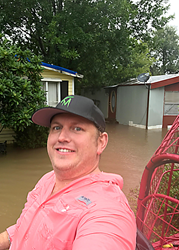 "The sheer magnitude of this kind of storm is historic. If you're not participating and helping then you need to check your humanity."
Seguin, TX (PRWEB) August 29, 2017
When local Texas business owner Seth Roberts bought his flat-bottom bay boat for coastal fishing, he never thought he would be using it to rescue hundreds of flood victims in Houston after Hurricane Harvey.
"We've got a lot of calls coming in off of Facebook right now," Roberts said. "We're trying to get to people, and we're just trying to get everybody out of here safely right now."
Roberts left his business behind on Sunday, August 27th to take his personal bay boat into the Houston area as one of the earliest citizen rescuers. He was responding to the historic flooding from Hurricane Harvey. He said he has helped over 230 people evacuate from the suburbs so far. Every one of them has been a water rescue.
Since starting his rescues in the Houston area, Roberts spends every day responding to calls for help on social media. He said he has rescued people from hotels, homes and even from the top of dams.
Louis Peer is the operations manager at Roberts' business, a mobile homes dealership in Seguin, TX. Peer said he was not surprised that his boss went to help flood victims.
"Roberts grew up fishing off the Gulf Coast," Peer said. "[he] loves that area and was just heartbroken by the devastation… because he is blessed to have resources that would help, he didn't hesitate to use them."
Peer said that, like Roberts, many other employees are personally affected by the flood devastation as well.
"Many of us have family and friends that live in Houston and the surrounding areas," Peer said. "Some have total losses of their homes and possessions but they are alive… and together."
Peer also said that Roberts directed his dealership to start mobilizing to gather diapers and other donated goods for flood victims in his absence. They are beginning to take donated packs of diapers, wipes, blankets and new clothes. Peer said they will have their employees deliver them to area shelters with the greatest needs.
Peer said it was just their way of helping out even though they couldn't be with their boss doing water rescues. Peer said it was important to all of them to be doing something to help right now.
"The sheer magnitude of this kind of storm is historic," Peer said. "If you're not participating and helping then you need to check your humanity."
If you would like to donate items for Harvey flood victims at Roberts' business, Texas Built Mobile Homes, they are currently asking for diapers, baby wipes, bottled water, blankets, sheets, and new clothing of all sizes.
You can bring items to Texas Built Mobile Homes from 8am to 6pm, located at 6245 I-10W, Seguin, TX, 78155. You can also call them directly at (830) 203-6870 for more information on donations or too coordinate a larger delivery.