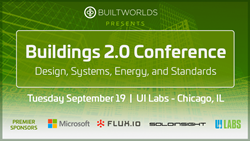 Chicago, IL (PRWEB) August 31, 2017
BuiltWorlds, a community and network for forward-thinking leaders in the built environment (architecture, engineering, construction, real estate, and other buildings and infrastructure-related industries), today announced the final agenda and speaker lineup for the Buildings 2.0 conference held on September 19, 2017 at UI Labs in Chicago.
Buildings 2.0 is a full-day conference focused on the opportunities and realities of today's smart and IoT-optimized buildings. Keynotes, panels and attendees will discuss industry trends, evolving standards and end-user needs of today's buildings, as well as insights on the processes and data solutions that help drive cost savings, improved operations & maintenance, and better building design. Architects, commercial real estate management, facility managers and building owners, in addition to general contractors, are encouraged to attend this compelling conference to learn more about data operation systems, sustainability, sensor-enablement and resiliency, among other topics throughout the sessions.
2017 Speakers Include:

Doug Chambers, WEWORK
Jessica Rose Cooper, DELOS SOLUTIONS
Neil Katz, SKIDMORE, OWINGS & MERRILL LLP
Jason Blumberg, ENERGY FOUNDRY
Kurt Karnatz, ESD
Brian Smith, BRACTLET
Bill Pottle, BOSTON VALLEY TERRA COTTA
Ted van der Linden GALLOWAY & COMPANY, INC.; DPR
Neil Lakomiak, UNDERWRITERS LABORATORIES
Charles Porter, DEVELOPMENT MANAGEMENT ASSOCIATES LLC
Andrew Witt, CERTAIN MEASURES
Neil Ross, MICROSOFT
Rene Morkos, ALICE TECHNOLOGIES
Benjamin Stephenson, CLAYCO
Dan Walsh, KONE AMERICA
Joe Harris, JMB FINANCIAL ADVISORS
For more information on the Buildings 2.0 Conference – agenda, session tracks, speaker bios and registration, please visit https://builtworldsbuildingsconf.splashthat.com/.
About BuiltWorlds:
Since its inception in 2014, BuiltWorlds' mission — to be the catalyst for progress and innovation in the built environment — has never wavered. Today, it is a community and network for stakeholders in the many built sectors to come together and move the needle forward. Through its events, ecosystem, and supporting video and written content, BuiltWorlds is providing the tools, knowledge, inspiration, and connections to grow careers, companies, and the greater industry. For more information on the BuiltWorlds community and network, visit http://www.builtworlds.com