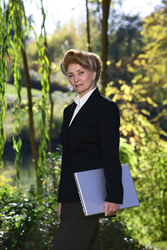 Grants Pass, OR (PRWEB) August 30, 2017
Sharon Kleyne, host of the nationally syndicated radio program, The Sharon Kleyne Hour Power of Water, Global Climate Change and Your Health sponsored by Nature's Tears® EyeMist® on VoiceAmerica, acknowledged on August 14th the death anniversary of one of the towering figures in antiseptics and clean water technology.
Dr. Ignaz Philipp Semmelweis (July 1, 1918—August 13, 1865) was a Hungarian physician who became known as the "savior of mothers". Noting the death toll, which was very high among women during childbirth, Dr. Semmelweis postulated that these deaths were caused by physicians' unsanitary procedures. Semmelweis's solution was to disinfect physicians' hands with a concentrated chlorine solution. It surprised many, but it was no surprise to him, that the death rate among new mothers dropped like a stone.
"Semmelweis was ahead of his time," said Kleyne, herself a highly respected international water researcher. Semmelweis's practical applications helped proponents of the germ theory of disease that came after him. "He also influenced the advent of safe drinking water," said Kleyne. The use of chlorine to disinfect drinking water is directly linked back to Semmelweis's work in delivery rooms.
Semmelweis deduced that outbreaks of puerperal fever would be drastically reduced if physicians in obstetrical clinics disinfected their hands before performing procedures. Working in the 1840s in Vienna General Hospital's first Obstetrical Clinic where the mortality rate was three times that of midwives' wards, Semmelweis developed his theory of washing hands with chlorinated lime solutions in 1847. His book, Etiology, Concept and Prophylaxis of Childbed Fever was internationally influential.
"But," Kleyne pointed out, "official acceptance of Semmelweis's discovery was slow and the end of his life was very sad."
Even though several international publications at the time shared results that antiseptic hand-washing effectively reduced mortality rates to 1% or less, the established medical community rejected Semmelweis and his findings. Many doctors were actually offended by the thought that they should wash their hands. In fact, Semmelweis's findings were not widely accepted until years after his death when Louis Pasteur and Robert Koch confirmed germ theory. Before that, however, Semmelweis was committed to an asylum in 1865 where he died fourteen days later after being beaten by guards. He was 47.
"Despite this sad ending," said Kleyne, we should always remember Dr. Semmelweis's life-saving contributions to the health of women and children everywhere and to his influence on the development of clean, safe drinking water."