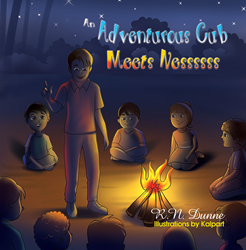 (PRWEB) August 31, 2017
Darrel and Troy are so excited to go camping with their Cub Scout troop that they can hardly stand still. This is the first time away from home for the eight-year-old boys and they plan to have plenty of fun.
The trip to the campsite is only an hour away, but the Cubs never see the scenery, as they keep busy singing songs and just having fun. After setting up their tents, the kids happily gather wood for the campfire and help prepare their meal. Somehow cheeseburgers taste so much better when cooked outdoors!
But Darrel and Troy break the rules when they are sent to gather sticks for the campfire and go beyond the safe markers to a bright meadow. They get into trouble when they meet up with something they never expected, and learn an important lesson.
About the Author
R. N. Dunne was once a Cub Scout leader herself. She grew up in Windsor, Ontario, Canada, and now resides in Ontario with her two Egyptian Mau cats named Amun and Ra. "I was very pleased when I finished writing this book, as Scouts Canada gave permission to publish it."
An Adventurous Cub Meets Nessssss (ISBN: 978-1-68181-438-4, softcover) is now available for $10.95 and can be ordered through the publisher's website:
http://sbprabooks.com/RNDunne or at Amazon.com or Barnesandnoble.com.
WHOLESALERS: This book is distributed by Ingram Books and other wholesale distributors. Contact your representative with the ISBN for purchase. Wholesale purchase for retailers, universities, libraries, and other organizations is also available through the publisher; please email bookorder@sbpra.net.