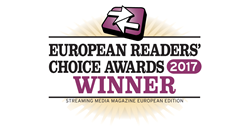 The movingimage secure EVP is the easiest and most reliable way to use video within SharePoint and evolve a simple intranet into a true digital workplace.
New York, NY (PRWEB) August 30, 2017
movingimage, the leading secure Enterprise Video Platform (EVP) provider, today announced the new Microsoft SharePoint Connector for the movingimage EVP solution. Developed for movingimage by partner Arvato Systems, the new SharePoint connector makes it easy to integrate, manage, share and stream video everywhere within SharePoint – from sites to Wikis. Videos can even be embedded in every rich text field. The movingimage secure EVP provides responsive player technology, intranet streaming and enterprise-grade security out of the box. And because videos are securely hosted and always available within the EVP, on-demand videos can be viewed within SharePoint – by hundreds of thousands, or even millions, of people at once – without concern about network bandwidth.
"The movingimage secure EVP is the easiest and most reliable way to use video within SharePoint and evolve a simple intranet into a true digital workplace," said Oliver Jaeger, global vice president of marketing for movingimage. "Together with the Outlook and PowerPoint add-ins we announced in June, these solutions are designed to make it easier than ever to communicate, collaborate and drive employee engagement using secure, enterprise video."
With the movingimage secure EVP, all videos – both internal and those on external websites – are hosted securely in one place, enabling them to be saved once and served up across multiple channels, including SharePoint. The EVP lets administrators, editors and publishers keep track of which videos are online and which are unpublished; and when videos are edited, the EVP automatically updates the video across every channel.
The movingimage EVP provides enterprise-grade video security features that work seamlessly with SharePoint, including single sign-on, IP-level security and encrypted streaming – keeping confidential videos confidential. And for those companies that require an extra layer of protection, videos can specifically be hosted in European data centers that are subject to European data protection regulations.
The SharePoint Connector for the movingimage secure EVP supports multiple SharePoint versions, including: SharePoint 2013 Foundation, Standard and Enterprise; SharePoint 2016 Standard and Enterprise and SharePoint Online / Office 365. Movingimage utilizes the Akamai CDN and EVP-integrated eCDN solutions from Hive and Ramp. Whether hosted on-prem, online or deployed as a hybrid solution, Akamai solves the delivery of videos to the internet with its 200,000 servers, while Hive and Ramp take care of intranet bottlenecks.
Learn more about the movingimage EVP SharePoint Connector in a free, 30-minute live webinar on Wednesday, September 6 at 12:00 PM EDT (18:00 CET). For more info and to register, go to: Video Integration with SharePoint.
About movingimage
As the leading global provider of secure enterprise video technology, with locations in Berlin, Tokyo, New York and San Francisco, movingimage's mission is to revolutionize how enterprises and organizations use video. Their software-as-a-service enables companies to efficiently manage all their video assets centrally and stream them in the best quality on any device. Movingimage boasts an extensive customer portfolio of over 500 companies, including blue-chip corporations such as the Volkswagen Group, Allianz and Bayer.
For more information visit http://www.movingimage.com
Twitter: https://twitter.com/movingimage_com
Facebook: https://www.facebook.com/movingimage.company
LinkedIn: https://www.linkedin.com/company/movingimage