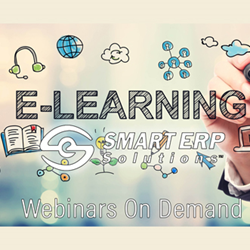 As a unique organization in the Enterprise Business Applications space, providing software solutions as well as consulting services, SmartERP is uniquely positioned to deliver these educational webinars—Doris Wong, CEO, Smart ERP Solutions
Pleasanton, CA (PRWEB) August 31, 2017
Smart ERP Solutions, Inc. (SmartERP), announced the launch of their Webinars on Demand for professionals looking to build their skillset and have a deeper understanding of solutions and services for their ERP systems. SmartERP's experts and partner network share their experience and knowledge on a wide range of ERP topics through these webinar series. The instructive on-demand webinars are available for free on smarterp.com/resources/webinar-on-demand, accessible 24x7.
Webinar content covers the typical Enterprise Resource Planning (ERP) business application areas including Human Capital Management, Financial and Supply Chain, and Campus Solutions, but also includes Cloud Offerings, Information Technology, Employee and Supplier Onboarding, E-Verify, Analytics, Security, Implementations, Application Development and Maintenance, Infrastructure Management and many other ERP-related topics. Interested ERP professionals can sign up here to receive notifications for future live and recorded webinars.
"As a unique organization in the Enterprise Business Applications space, providing software solutions as well as consulting services, SmartERP is uniquely positioned to deliver these educational webinars," said Doris Wong, CEO, Smart ERP Solutions. "SmartERP plans on delivering several more educational webinars in 2017 and an exciting informative series for 2018."
As an Oracle Platinum Partner and developer of solutions and services that enhance and support business applications, SmartERP is dedicated to delivering innovative and leading-edge informational webinars. With proven experience in enterprise business application solutions and delivering expert services, SmartERP aims to help organizations gain insights through their webinars on ways to enhance business processes through the utilization of SmartERP technology and efficient services combined with Oracle and other various offerings.
About SmartERP
Founded by Oracle/PeopleSoft veterans, Smart ERP Solutions® is a unique organization in the Enterprise Business Applications space providing innovative, cost-effective, and configurable solutions as well as a wide range of consulting services that efficiently extend the capabilities of ERP systems to meet specific business process needs. SmartERP enables clients to seamlessly integrate their people, processes, applications, and data, across an enterprise, enabling the organization to streamline its operations and support business growth. SmartERP application managed services can supplement an organization's staff, co-manage applications or manage their entire set of PeopleSoft, EBS and JDE applications.
MEDIA CONTACT
Dave Reik
Smart ERP Solutions, Inc.
+1 925 271 0200