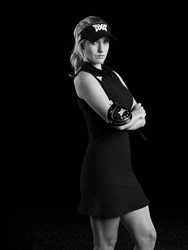 Scottsdale, Arizona (PRWEB) August 31, 2017
PXG, the groundbreaking golf equipment company established by American entrepreneur and golf aficionado Bob Parsons, today announced that it has signed golf influencer Paige Spiranac as a brand ambassador.
Spiranac played collegiate golf at San Diego State University. After graduation, she decided not to pursue playing on the LPGA Tour. Instead, Spiranac leveraged her passion for the game and social prowess to build a viable career as an influencer in the sport. Today her circle of influence exceeds 1.5 million followers, more than any LPGA Tour professional.
"PXG is changing the golf industry in a way that is exciting and refreshing," Spiranac shared. "I believe in the company and its people, and want to be part of what they're doing. I'm excited to finally say I am a member of the PXG Troops!"
Since entering the market, PXG has incited a step change in the industry. The company invests heavily in research and development and does not prescribe to traditional product cycles. As a result, PXG is renowned for introducing innovative technology and releasing the world's finest golf clubs.
"As my followers know, I'm always looking for ways to improve my game and have a little more fun on the course," Spiranac added. "From the first time I swung a PXG club I have wanted to add them to my bag. They feel incredible and the performance really makes a difference."
As a brand ambassador, Spiranac will be an advocate for PXG's fans and consumers. She will host a series of Internet videos featuring conversations with PXG's pros, engineers and founder Bob Parsons. She will also share her experiences on the course and play alongside other golf fanatics on her quest to conquer, or at least manage, the game.
"Paige epitomizes PXG's customers – passionate golfers who value exceptional equipment," said Bob Parsons. "She knows who she is and is unapologetic in her efforts to enjoy the game. I think that's pretty cool and I think our customers will think so too."
What's in Paige's bag?

PXG 0811X Driver, 9° with Tensei White 60-s
PXG 0341X 3-Wood, 15° with Fujikura Speeder Evo I 661-s
PXG 0317X Hybrid, 19° and 22° with Tensei Blue 80-r
PXG 0311XF Irons 5-9pw with Steelfiber 70-r
PXG 0311T Milled Wedges, Sugar Daddy, 50° and 54° with Steelfiber 70-r
PXG 0311T Milled Wedge Zulu, 58° with Steelfiber 70-r
PXG Gunboat S
To learn more about PXG or to schedule a fitting, visit http://www.pxg.com.
ABOUT PARSONS XTREME GOLF – PXG, A YAM WORLDWIDE COMPANY
Parsons Xtreme Golf (PXG) is based in Scottsdale, Arizona. The company was founded by GoDaddy founder, businessman and philanthropist Bob Parsons in 2014. Leveraging breakthrough technology and sophisticated manufacturing processes that integrate high-performance alloys, PXG produces the finest golf clubs in the world. The company has more than 120 global patents issued for its proprietary designs.
PXG's professional staff includes PGA TOUR Champions James Hahn, Billy Horschel, Charles Howell III, Zach Johnson, Chris Kirk, Ryan Moore, Pat Perez, Charl Schwartzel, and LPGA players Austin Ernst, Christina Kim, Lydia Ko, Brittany Lang, Alison Lee, Ryann O'Toole, Sadena Parks, Gerina Piller, and Beatriz Recari.