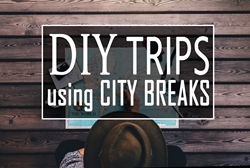 The benefit is in the experience of getting to create your own tour and enjoying the flexibility and freedom you give yourself
Los Angeles, CA (PRWEB) August 30, 2017
Charming Travel Destinations, a travel company operating since 1987, recently launched its DIY (Do it Yourself) Tours. The do-it-yourself (DIY) tours allow travelers to use existing programs to build and create their own tours to increase personal customization and flexibility.
Do-it-Yourself is a trend that has influenced multiple industries including fashion, art, interior design and technology. To improve customer satisfaction, Charming Travel Destinations brought the movement into the travel industry. Marketing Director Mariam Jimenez explains that the new products will improve the traveling experience.
"DIY has been the hottest trend whether it is in art or technology. Even travelers can enjoy do-it-yourself within tours. The benefit is in the experience of getting to create your own tour and enjoying the flexibility and freedom you give yourself," says Jimenez
The company offers many City Break Tours in many destinations around the world including Asia, Europe, Africa and the Middle East. Travelers can review the City Breaks and combine multiple tours to make their personalized itinerary.
Customers can combine a Phuket tour with a Krabi tour for their custom Thailand tour or a Tokyo tour with Jeju tour for a custom multi-country tour. To travel Europe, travelers can combine an Oslo tour with a Stockholm tour for a custom Scandinavian exploration. There are countless possibilities for the tours.
To maximize flexibility and leisure, travelers can also add in free dates before, after or in between City Breaks as well.
Each City Break option lasts around 3-5 days and are affordable, giving DIY travelers many choices for their timing and financial concerns.
To learn more about DIY trips, visit https://charmingtraveldestinations.com/diy-trip-city-breaks/
About Charming Travel Destinations
Charming Travel Destinations is a major tour operator in North America arranging exclusive group, independent, student and corporate travels. With over 25 years of knowledge and experience, Charming Travel Destinations promises the best quality performance, service and products in the travel industry. For more information, please visit https://charmingtraveldestinations.com/