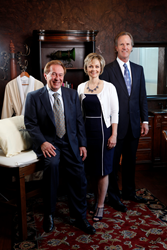 "We decided to not just offer concierge, but to redefine what concierge medicine looks like."
Southlake, TX (PRWEB) August 31, 2017
Executive Medicine of Texas has seen concierge client growth triple in 2017 as patients look for better options. Concierge medical programs gained popularity over the last ten years in places like Florida and California, where the patient/physician ratio is traditionally high. Now, concierge programs are gaining traction across the country as patients are facing high premiums and excessive deductibles. This means more access for the patient and less headache for the doctor who doesn't spend time and resources chasing after insurance companies for payment.
Executive Medicine of Texas, world renown for its half-day executive physical exam programs, started offering concierge programs to their patients in 2014. "We decided to not just offer concierge, but to redefine what concierge medicine looks like," states Judy Gaman, Director of Business Development. "Each of our plans start with a half-day examination and a detailed plan for better health and wellness. Then follow-up primary care visits, labs, and other testing for the course of a year are also covered. Some plans also include imaging services like MRI and CT at no additional cost."
Since many of their patients travel nationally and internationally, Executive Medicine also includes air medical transfer services through Med Jet Assist. Should a concierge patient be hospitalized due to an accident or illness during travel, they can be transferred to a hospital closer to home or to one of their choosing.
"We started receiving requests for concierge programs in late 2013, mostly from patients that moved to Texas from other states," says Mark Anderson, MD. "Once we decided to make concierge medicine part of our offerings, we went to work designing the most comprehensive programs available. And since we service a large number of corporate clients, we often customized plans to meet the needs of their specific executives."
Concierge business has grown over the last three years for Executive Medicine and they report that 2017 has been a record year, already tripling their numbers from 2016. The growth has not only been for executives, but also for their families. The family program was added just over a year ago. There are five programs to chose from: Gold, Platinum, Platinum Plus, Family, and Age Management. Each program has it's unique benefits.
The trend in concierge growth has also been a factor in Executive Medicine of Texas adding another physician to the practice. Elizabeth Cox, MD joined as their first female physician in 2016. The three physicians, nurse practitioner, and physician assistant will be moving into a new building in mid-September as to accommodate the increase in business. They anticipate that the number of patients seeking concierge services will continue to rise over next couple years.
About: Executive Medicine of Texas was founded in 2005 by Drs. Mark Anderson and Walter Gaman. Their focus continues to be on preventative and proactive medicine, helping each patient live a longer and healthier life. Individuals and corporations alike, have benefited from the practice's dedication to wellness and age management. Both physicians are also award-winning authors and co-host the nationally syndicated Staying Young Radio Show.