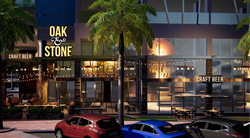 iPourIt gets people trying a lot, talking a lot, and interacting with each other.
St. Petersburg, FL. (PRWEB) August 31, 2017
From the minds of TableSeide Restaurant Group comes the latest craft beer and pizza destination on the gulf coast: Oak and Stone, a neighborhood-style beer and pizza joint with a modern twist—self-serve draft beer and wine. The bar and restaurant, celebrating two successful years at its original location in University Park, Florida, will make its St. Petersburg debut this December.
The new Oak and Stone will use the same high-tech self-serve beverage dispense technology,iPourIt, as seen at its original location. The bar wall of tech-savvy taps will house 62 different varieties of craft beer and wine, with a focus on local beers from nearby brewers like JDubs, Calusa, and Big Top.
TableSeide owner, Joe Seidensticker, says, "It's an upgrade. It will have everything the original Oak and Stone has, with new bells and whistles, like more taps, a bigger bar, and more TVs."
Joining St. Petersburg's downtown dining and nightlife district, the new Oak and Stone is located right outside the Jannus Live music venue. Its close proximity to area colleges, art galleries, museums and other cultural centers make it a top destination for locals and visitors alike.
"We're literally in the heart of the downtown district, right on Central Avenue. It's a great throughway for people coming from the waterfront and downtown. The location is amazing," said Seidensticker.
Opening a second location was a natural progression for Oak and Stone, whose mission is to introduce more people to craft beer in a fun and friendly way.
"There's this intimidation in craft beer. We wanted to figure out a way to make it a little more social and approachable for people that don't really drink craft beer on a daily basis," said Seidensticker. "iPourIt gets people trying a lot, talking a lot, and interacting with each other."
Oak and Stone will join the downtown district in St. Petersburg in December 2017 at: 24 2nd St. N., St. Petersburg, FL.
About TableSeide Restaurant Group
TableSeide is a family-owned and operated restaurant group influenced by over 30 years of restaurant experience and a passion for the world of culinary arts. Inspired by passion for the hospitality industry, worldwide travels, engaging mentors and a mutually shared mission of providing great service, food and drink in a welcoming atmosphere. Visit their locations: Louies Modern, Libby's Cafe and Bar, Muse at the Ringling, Lbar, and Oak and Stone.
About Oak & Stone
Forget what you thought you knew about pizza places. This specialty joint specializes in artisanal, wood-fired pizzas and toppings with a twist like roasted pineapple, Cedar Key clams, kale pesto, caramelized garlic and more. We also offer a variety of gourmet grub, unexpected entrees, and the largest selection of craft brews on tap in town. Oak & Stone boasts the largest RIFD technology self-serve brew wall in the region with 56 taps of golden goodness. Visit us online at: oakandstone.com | facebook.com/oakandstonesarasota | Instagram @oakandstone_srq.
About iPourIt, Inc.
iPourIt, Inc. is a revolutionary self-serve beverage dispense technology that allows taproom and fast casual patrons to pour their own beer, cider, wine, cocktails and coffee, and it tracks and monitors every pour. iPourIt's data analytics gives bar and restaurant operators valuable information about who poured what, when, and where, so businesses may effectively target patrons and create a positive experience, while increasing revenues. iPourIt's self-serve solution is now in operation on 2,500 taps nationwide and counting, with more than 3.4 million ounces poured each month, and more than 5.5 million users, a number that grows every day. iPourIt is born and supported in the U.S.A. Learn more about iPourIt at ipouritinc.com, and follow us for updates on Facebook (facebook.com/iPourIt), Twitter (@iPourIt_inc) and Instagram (@ipourit).