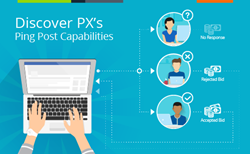 "PX is looking to take traditional Ping Tree capabilities to a new level." - Jeff Deisner, Executive Vice President of PX.
Newport Beach, California (PRWEB) August 30, 2017
Meeting the demand for greater security and more dynamic pricing in lead generation, the specialists at PX have incorporated full ping-post capabilities into their software. The new feature is available to publishers as well as advertisers using the innovative PX platform, which currently handles over 50 million transactions per month.
The new features significantly improve the lead sales process. Sellers can send, or "ping," partial, relevant lead information to potential buyers who can view possible leads quickly before deciding whether to buy. Within seconds, the buyer obtains strong lead information at optimal prices.
In verticals like Home Services, Insurance, and Financial Services, the so-called "ping tree" is a popular way of buying and selling leads. The technology manages the provision of lead information to multiple buyers. It validates leads and can filter them based on wide-ranging criteria, so sellers can optimize their offering and buyers are presented with more attractive leads in a matter of seconds.
PX is including popular features like duplication rules and time-out management, which greatly improve lead quality. Other new features include dynamic bidding based on data points, and record-keeping functions.
Ping-post technology offers many benefits to both lead sellers and buyers. It enables sellers to protect their leads' personal information while providing only the details their buyers will actually need. Meanwhile, ping-post technology allows lead buyers to cherry pick, to buy leads at competitive pricing in a dynamic, auction-like setting which makes this method extremely scalable while guaranteeing higher ROI.
"PX is looking to take traditional Ping Tree capabilities to a new level. It's no longer just about being able to handle a ping and respond with a bid for that lead. It's about applying machine learning algorithms to dynamically place the optimal bid and adapt future bids as the market adjusts. We're very excited about the success our beta clients have seen and we're looking forward to rolling it out to all clients," says Jeff Deisner, Executive Vice President of PX.
Industry observers consider ping-post technology a breakthrough in data protection and a powerful sign of the lead-generation sector's eagerness to self-regulate. Since its inception, PX has been devoted to optimizing security and transparency through innovative, automated lead-generation technology.
Since going live in May 2017, the PX ping-post module has already handled over 10 million pings and nearly 1 million leads for its clients.
For more information visit http://www.px.com
PX, part of ReviMedia group, started as an in-house lead generation platform in 2010 and has grown into an automated, feature-rich SaaS solution, with over 40 million leads generated in more than ten verticals since 2012. PX is headquartered in Newport Beach, California.