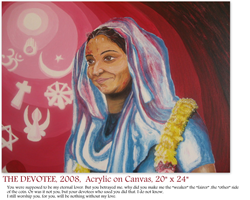 If a religion seems to teach hatred, it is a mistake of interpretation, and not the religion
Chicago, IL (PRWEB) August 31, 2017
"Art: The Language of Community" is the third in Life Force Arts Center's 2017 series of exhibits, Art: The Language of... exploring the power of the Arts in Learning, Healing and Community Building. The exhibition opens on September 10th with Sujata Tibrewala' s Devotee.
The devotee depicts an older woman at peace with her face. Though her features look Asian/Indian, her face does not reveal any religion. She could be a Hindu widow with no "Bindi" : a Red Dot Hindu women wear on their forehead. Or she could be a Muslim woman or a christian woman wearing a veil. It is hard to tell by her face, and it does not matter because she is celebrating the festival of colors, a festival which has the power to turn foes to friends. A festival where it is traditional not to refuse to play, even if offered by an enemy.
Thus this "areligious" lady in the painting, wearing the expression of eternal bliss , teaches the viewer to forget their differences, and look at each other's human hearts. This exhibit seems to have come at the right time to spread the message of love , while the forces of hatred are slowly rising up in this great country of America.
About the artist:
Sujata Tibrewala, a self-taught artist come engineer remarkably embodies the indomitable spirit of human existence through her works. Her works revolve around the theme of eco-feminism. She has exhibited her artworks in some of the most reputed venues around the globe such as University of Illinois, Chicago, Raw San Jose, Parallax Art Fair London, the Regional Commission of Arts St Louis, Life ForceArts Chicago, Mindworks Gallery Chesterfield, St. Louis Artists' Guild, Chesterfield Arts, Art World Association, Women's Caucus for the Arts, MySLART and Lalit Kala Academy, Delhi.
She shifted to the USA in 2010 from India and practices her craft and conducts art workshops at Bay Area, CA, where she resides presently.