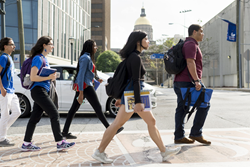 Atlanta, Georgia (PRWEB) August 30, 2017
Georgia State University has enrolled the largest number of freshmen in its history and has set records in academic quality and diversity in the freshman class.
At the Atlanta campus, more than 3,900 freshmen enrolled at the university, a 5 percent increase in first-year students compared to the fall semester of 2016. They have set a record with an average high school grade point average (GPA) of more than 3.5.
The freshman class also sets records for diversity, with Hispanic enrollment up more than 14 percent and a 3 percent increase in the number of African-American students.
The university received a record number of freshman applications, totaling more than 19,000 and representing a 9 percent increase over 2016.
Georgia State's Perimeter College campuses are also welcoming the largest class of new students in its history, with 7,245 new students enrolled, a 23 percent increase over last year. This includes 2,840 freshmen and the largest dual-enrollment class in Perimeter's history, with 1,640 students enrolled.
Across the entire university, Georgia State enrolled freshmen from more than 130 counties across Georgia and from 114 nations.
Georgia State remains the largest university in Georgia, with more than 52,000 students across all campuses, and across all degree levels, academic pathways and majors.
"With 6,800 new freshmen enrolled across all of Georgia State's campuses this fall, it's clear that the reach of Georgia State has never been greater," said Timothy M. Renick, vice provost and vice president for enrollment management and student success. "This fall's freshmen come from almost every county in Georgia and more than 100 nations. These students not only represent our largest and most diverse group of freshmen ever, they will have the best prospects in Georgia State's history for successfully graduating and for doing so on time."
Georgia State has been recognized nationally for its student success efforts, from using predictive analytics to keep students on track to graduate, to the use of Panther Retention Grants, small grants to help fill financial gaps that might otherwise keep a student from graduating.
The university's Honors College continues to grow in size and quality as well. This fall, the college welcomed 251 new students, bringing the total to more than 1,650 students. The new students admitted into the Honors College set a record in quality, with an average SAT score of 1410, up 50 points from fall 2016.