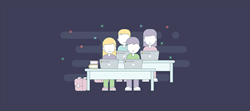 San Jose, CA (PRWEB) August 30, 2017
Thanks to a Silicon Valley start-up, students in over 600 School Districts nationwide are experiencing a more age-appropriate Internet. Securly, the cloud-based provider of online security for K-12, rolled out its free Chromebook extension a month ago. By providing a free product, Securly continues its mission to keep kids safer online by categorizing over a million dangerous websites (e.g. gambling, drugs, porn) to help districts determine safer traffic on their networks.
"I wanted to quickly write you and thank everyone at Securly for their hard work. I like to think this is Securly pilot semester and your services have been recommended by others I network with in education. I look forward to using this tool as a part of our student monitoring. Thank you, again, and make sure to thank the entire Securly team."
Collin Miller
Taos Academy Charter School
"It's working amazingly and already alerted us to one potential self-harm/suicide situation so we can intervene. We're quite pleased! Thanks for everything."
David Wolford
Because it is cloud-based, school districts benefit from maximum network safety with a minimal network footprint. In addition, districts get access to forum support and daily Q&A sessions with a sales engineer. Of course, like any SaaS, there's a Premium tier. With Premium, schools get access to additional filtering for all devices, Parental Integration, Delegated Admin, and Dedicated Student Safety Coordinators, the industry-first tech that uses artificial intelligence to monitor for signs of cyberbullying or even self-harm.
According to the National Association of School Psychologists (NASP), over 3 million kids are bullied each year. Most of the time, underfunded and understaffed schools are unable to do anything about it. Securly is using some of the best minds in tech to change the online landscape to one that is safer and more nurturing for schools that use Chromebooks, Macs, Windows, and PCs, on and off campus.
To sign up for the Securly Chrome extension, click here