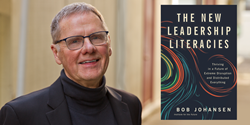 Silicon Valley, California (PRWEB) September 05, 2017
Technology acceleration – from artificial intelligence and blockchain to virtual reality – will disrupt nearly every industry. With no signs of it slowing down, how can executives, managers, and human resources leaders thrive?
"All leaders will have to be digitally savvy enough to make good media choices and to use the media well. The blended-reality world is moving fast. It is already too late to catch up—but it's a great time to leapfrog," writes futurist Bob Johansen, a fellow at Institute for the Future.
In this emerging world, the best companies will be very clear about where they are going, but very flexible about how they get there. The future will reward clarity, but punish certainty. Shape-shifting organizations will win consistently over hierarchies.
Through Johansen's new book, The New Leadership Literacies: Thriving in a Future of Extreme Disruption and Distributed Everything, he shares his vision for successful leadership 10 years into the future, using five "new leadership literacies" as a framework to provoke insight and inspire each reader into action. Current leaders and managers, recruiters, corporate trainers, and future leaders will need to learn the following new leadership literacies:
1. Looking backwards from the future
2. Voluntary fear engagement
3. Leadership for shape-shifting organizations
4. Being there when you're not there
5. Creating and sustaining positive energy
"It will be a VUCA World—Volatile, Uncertain, Complex, and Ambiguous—and it will get even worse over the next decade," Johansen explained.
"On the other hand, it will be possible to succeed, make the world a better place, and even thrive in the VUCA World. For leaders, hope is the key variable. Leaders need to seed realistic hope and they can only do that if they create and sustain positive energy."
Though available now, many leaders, executives and human resource professionals across various industries already have high praise for Johansen's The New Leadership Literacies:

"Bob Johansen offers us an insightful reference point to evaluate the practices and approaches we use to develop leaders who will thrive in a volatile, uncertain, complex and ambiguous world." — VP, Global Talent Laura Mattimore, Procter & Gamble
"Bob Johansen is the Rick Steves of travel to the future . . . The Salvation Army has been inspired by Bob's perspectives to help us find new ways to deliver our message of hope." — Bill Burke, Chair, National Advisory Board, The Salvation Army
"Army War College graduates must be fluent in the leadership literacies that Bob has discerned for a globally connected and distributed security environment." — Professor of Leadership Charles D. Allen, United States Army War College
"The New Leadership Literacies will immediately become a core component of the leadership curriculum at United Rentals." — Chief Administrative and Legal Officer Craig A. Pintoff, United Rentals, Inc.
"Cigna has emphasized Bob Johansen's 10 leadership skills from Leaders Make the Future as part of leadership development to date, and now The New Leadership Literacies will be a cornerstone of preparing and engaging Cigna's leaders for disruption and dynamism." — Chief Learning Officer Karen Kocher, Cigna
The New Leadership Literacies:
Thriving in a Future of Extreme Disruption and Distributed Everything
By Bob Johansen
Berrett-Koehler Publishers
September 5, 2017
192 pages / Hardcover
ISBN-10: 1626569614
ISBN-13: 978-1626569614
About Dr. Bob Johansen
Bob Johansen is a distinguished fellow with the Institute For The Future in Silicon Valley. For more than 30 years, Bob has helped organizations around the world prepare for and shape the future, including corporations such as P&G, Walmart, McKinsey, United Rentals, and Syngenta, as well as major universities and nonprofits.
The author or co-author of 10 books, Bob is a frequent keynote speaker. His best-selling book Get There Early: Sensing the Future to Compete in the Present was selected as one of the top business books of 2007. His latest book is The New Leadership Literacies.
Bob holds a B.S. from the University of Illinois and a Ph.D. from Northwestern University—as well as a master's degree that focused on world religions.