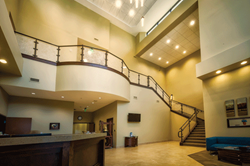 It was chosen at ProNova for its elegant style, durability, low maintenance and affordable price.
Cincinnati, Ohio (PRWEB) August 30, 2017
Hollaender Manufacturing, manufacturer of Interna-Rail® aluminum railing systems, was chosen by architect Christopher Rutledge, of Michael Brady Inc., to provide the railing system for ProNova Solutions' new corporate headquarters, and R&D facility. The complex consists of 53,000 square feet of office and manufacturing space in the Pellissippi Place development in Alcoa, Blount County, TN.
Several railing designs were evaluated for the main lobby of the office building. Ultimately, Hollaender's Interna-Rail® VUE aluminum component railing system was chosen and installed. It features dark bronze anodized railings and Silver Spun acrylic infill panels from Lumicor. The acrylic infill provides a unique aesthetic, while ensuring that the railing system would meet code and feel secure.
Hollaender's Interna-Rail® VUE handrail system is an offset, post mounted fitting based railing system for glass, resin infill panels, and perforated metal, designed to combine the clean look of welded rail with all the benefits of a mechanical system. It was chosen at ProNova for its elegant style, durability, low maintenance and affordable price. Interna-Rail® systems can be designed to meet any building code and are being used throughout the world in architectural, public works, and stadium applications.
ProNova Solutions, LLC, a division of Provision Healthcare, is committed to making proton therapy accessible to a greater number of cancer patients and physicians worldwide. Manufacturing of the company's newest proton therapy systems will take place in the new facility.
About Hollaender Manufacturing
Hollaender is a manufacturer and marketer of aluminum structural pipe fittings, aluminum pipe, as well as final assemblies that use these components.
Hollaender is also a US market leader in the design and manufacture of complete architectural railing systems, often called "Decorative Metal Railing Systems."
Hollaender components are used in the design and build of handrail, guardrail and safety rail systems as well as a wide variety of unique modular pipe and fitting based structures for commercial, residential, public works and industrial applications, as well for retail store fixtures and other structural applications. These components and systems are marketed under the trademarked brands Speed-Rail® and Interna-Rail®. Hollaender also offers consultation, design, and project management services.