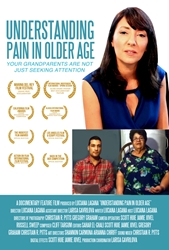 Considering the harmful effects of age discrimination on the health and well-being of older adults, the focus of the experimental research currently in progress is to test the effects of viewing this social impact documentary on young adults (Larisa)
Hollywood, CA (PRWEB) August 31, 2017
The article by CSUN Professor Luciana Lagana, Larisa Gavrilova, Delwin Carter, and CSUN Professor Andrew Ainsworth, entitled "A Randomized Controlled Study on the Effects of a Documentary on Students' Empathy and Attitudes towards Older Adults," published online by the peer-reviewed journal Psychology and Cognitive Sciences, is available to the public at http://openventio.org/Volume3-Issue3/A-Randomized-Controlled-Study-on-the-Effects-of-a-Documentary-on-Students-Empathy-and-Attitudes-towards-Older-Adults-PCSOJ-3-127.pdf. In this publication, the authors attempted to improve empathy and reduce ageism among undergraduate students using an original, award-winning social impact film that was created thanks to the effort of the first and second authors of this article. Perhaps due to the relatively small sample size, they only achieved significant results on empathy.
(from the article's abstract): Background: Despite the rapid increase in the size of the geriatric population, no current published literature is available based on the effects of viewing a documentary covering medical and psychosocial issues concerning older adults influencing young people's empathy and ageism. The aim of the current study was to test whether participants who viewed an original documentary about older adults experiencing physical pain would report lower ageism and higher empathy scores when compared to participants who watched a neutral documentary. Method: Seventy-seven students (ages 18-29 years) were randomized to either the experimental (pain documentary) or the control (neutral documentary) conditions and given pre- and posttest measures of empathy and ageism. Results: The results of a series of Profile Analyses (Multivariate Mixed ANOVAs) showed a significant interaction (Wilk's λ=0.933, F(1,75)=5.389, p=0.023, partial η2=0.067) between treatment and time (pre- vs. post-viewing the film) for the empathy measure that was confirmed by follow-up t-tests. The latter showed a significant increase in empathy scores for only the experimental group, t(37)=-2.999, p=0.005. However, contrary to the original prediction, this same treatment by time effect was not observed for ageism (Wilk's λ=0.994, F(1,75)=0.482, p=0.490, partial η2=0.006), as the experimental participants did not significantly reduce their ageism scores, t(38)=0.725, p=0.473. The results of these analyses, as well as those obtained by using the subscales of each questionnaire, have been discussed. Conclusions: The findings of this preliminary study indicate that showing a pain-based, antibias documentary feature film has the potential to significantly improve empathy towards older adults in university students.
Prof. Lagana is continuing this line of research at CSUN with the help of her CSUN research collaborators, such as this article's co-author, Prof. Ainsworth, and many students who conduct research in her laboratory. "This research field is very complex and has many inherent research limitations that are hard to account for. As a result, there are very few randomized controlled studies in this area. We are doing our best to create and test experimentally original, social impact feature documentaries that could have a positive impact on the viewers," she commented. Her efforts in film-based randomized controlled research allowed her to win the prestigious 2017 CSUN Exceptional Creative Accomplishments Award.
Larisa, who has graduated from CSUN and is currently a doctoral student at the University of California, Merced, is excited about the preliminary findings of this team's research. "More broadly, my research focuses on health and factors promoting or undermining health. I am especially interested in investigating health outcomes of minority groups and interventions to improve their overall well-being. Considering the harmful effects of age discrimination on the health and well-being of older adults, the focus of the experimental research currently in progress is to test the effects of viewing this social impact documentary on young adults. With our research findings, we hope to contribute to successful interventions that can help improve attitudes towards older adults and improve their quality of life. Under the mentorship of Dr. Lagana, I am in the process of finalizing a manuscript containing a literature review on this important subject. In this review, we define what ageism is, review studies on its negative consequences on older adults' lives, summarize theories of ageism that have shed light on factors that can cause negative attitudes toward older populations, and review interventions that have been designed to decrease ageism. Another research focus of ours is women's health. In this regard, we are working on a second manuscript describing an empirical study on potential psychological predictors of young women's sexual functioning, in particular depression, anxiety, and sexual self-efficacy," concluded Larisa.
Written by Stefanie Friesen
Luciana Lagana is a caring clinical and experimental psychologist. She is also an established professor of psychology, gerontology, sexuality, and women's health at CSUN, where she teaches classes and mentors many students. Additionally, she conducts government-funded research on ethnically diverse, primarily low-income older women's physical, psychological, social, and sexual health. Concerning her artistic pursuits, since 2006 she has been studying acting and hosting in Los Angeles. She is an award-winning actress/screenwriter/director/producer with over 40 IMDb credits for acting in many independent movies and TV series. She also created, hosted, and directed the 4-times award-winning educational project "Dr. Luciana Show – Aging and Falling" and several social impact feature films. Prof. Lagana won the 2017 CSUN Exceptional Creative Accomplishments Award, the 2011 CSUN Preeminent Scholarly Publications Award, and the 2008 CSUN Visionary Community Service-Learning Award.