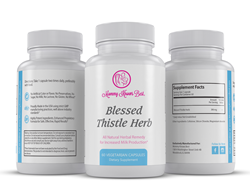 We know we have great lactation supplements already on the market, but the Blessed Thistle supplement can help to support moms even more than some of our other supplements.
Woodstock, IL (PRWEB) August 30, 2017
Mommy Knows Best, a supporter of the breastfeeding, health, and beauty needs of moms, has announced that they are launching a new lactation supplement. Blessed Thistle is known to help improve lactation, let down, flow, while also enriching it with nutrients and antioxidants. It can also help to alleviate a mother's postpartum depression after giving birth, as well as improve their digestive health.
Here is some more information about our Blessed Thistle supplement:

Boosts Natural Lactation - Stimulates the flow of blood to the mammary glands and enriches breast milk with nutrients and antioxidants in nursing mothers.
Improves Let Down and Milk Flow - Helps to unclog pores in lactating mothers, allowing for better let down of breast milk from the nipples to produce a steady flow.
Helps Alleviate Postpartum Depression - Helps restore hormonal balance after giving birth. It combats symptoms that lead to depression, migraines, hypertension, and more.
Improves Digestive Health - Provides digestive support to prevent gas and bloating.
About Mommy Knows Best:
Mommy Knows Best was founded with the mission to create safe and natural products for mothers who need assistance increasing their breast milk supply for their newborn babies. Mommy Knows Best has since evolved into a one stop shop for moms to turn to for all their breastfeeding, health, and beauty needs. Our goal is to supply mothers with all the best products they need. All our products are specially formulated and customized to meet the unique needs and challenges a mom can face during motherhood.