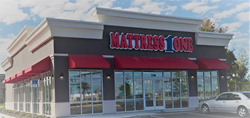 "we understand that our beautiful city will take a long time to recover and we will be continuously searching for ways to help in the recovery." - Madhat Salem
Orlando, Florida (PRWEB) September 01, 2017
Mattress1One pledges $350,000 to those affected by Hurricane Harvey. Mattress1One to donate $50,000 to the Hurricane Harvey Relief Funds benefiting the victims of Hurricane Harvey. Mattress1One is in contact with multiple relief agencies. In addition, Mattress1One will also donate over 1000 mattresses and box springs, valued at over $300,000 to shelters in need throughout the affected areas of Texas. If you are a shelter and need relief help, please contact us at caitie(at)mattress1.com so that we can provide you with assistance.
Hurricane Harvey, which poured over 50 inches of rain in some areas has led to historical flooding. Hundreds of thousands of homes have been flooded by Hurricane Harvey and millions of people have been affected. FEMA estimates that 30,000 people will be displaced from their homes and will need shelter and accommodations. Mattress1One understands that many of those displaced will need long term shelter due to the damage done to their residences. Mattress1One has pledged to donate 1000 mattresses and box springs to shelters and churches that will be providing aid and housing to those displaced by this tragic storm
Two of the Salem Brothers, who are the owners of Mattress1One and are also long time Houston residents, have stated that during the many years they have lived in both the US Virgin Islands and Florida, they had never witnessed a storm this destructive. Madhat Salem was quoted as saying, "This is by far the worst storm I've ever witnessed." Adding, "We understand that our beautiful city will take a long time to recover and we will be continuously searching for ways to help in the recovery."
Mattress1One is committed to the Houston community and pledges to be a long-term partner in the relief effort caused by this tragedy.