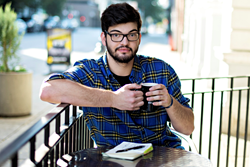 I hope to contribute to ongoing dialogues pertaining to mental health and help readers develop a greater sense of empathy for others.
CINCINNATI, Ohio (PRWEB) September 05, 2017
Millennials are stressed out, and Samuel Mangold-Lenett, 21, a University of Cincinnati student, wants to talk about it.
Studies indicate that Millennials may be the most stressed-out generation ever—many experienced childhoods of high expectation, but were hit with an economic recession as they came of age. Add to that the squeeze of high college debt and shrinking job opportunities—plus the expectation that they must be technologically available 24 hours a day, seven days a week.
Mangold-Lenett wants to start a public discussion about the topic at the Roh's Street Café at UC and the second annual "B-Fest" at Barnes and Noble Booksellers at Newport on the Levee in Newport, Ky. The free book signings are in conjunction with a 58-page book of poetry he's written titled, The Anxiety of a Millennial (Dorrance Publishing Services, 2016). Former UC president Santa Ono wrote a foreward for the book.
The first book signing and discussion on proactive ways Millennials can cope with the demands technology places on them in their lives and in their careers will be held Thursday, Sept. 21 at Roh's Street Café, 245 W. McMillan St. near the University of Cincinnati campus.
The Barnes & Noble B-Fest book signing will be held Saturday, Sept. 23 from 1 to 5 p.m. at Barnes & Noble's "B-Fest," a teen book festival.
"I wrote these poems because it was a therapeutic and productive way for me to cope with reality," said Mangold-Lenett of Clifton. "I found poetry provided a good structure for formulating my thoughts naturally and trying to make sense of them simultaneously."
After discussing some of the poetry with his friends, Mangold-Lenett realized he wasn't alone with his feelings of anxiety on a daily basis. He said he thinks others may be able to benefit from hearing his concerns, too.
Mangold-Lenett has an unusual liberal arts major in this post-recession world of job-focused, technologically-oriented college degrees. He's working toward a double-major in English literature and political science.
"We need to perform comprehensive analysis in all aspects of life, and my double major expresses that," he said. "English literature emphasizes analysis of text and literature, relying on contemporary audiences analyzing multiple factors to come to conclusions about what a text is meant to express. Political science is similar, but requires the application of subjectivity and an immediate reaction to world events-- perhaps more so than English."
Mangold-Lenett just completed a summer internship with Sen. Rob Portman's (R-Ohio) office and worked in the office during an emotional protest and heated public discussion about the Affordable Care Act.
"I learned there is no objectively correct answer to any question pertaining to our social structure," he said. "I hope to contribute to ongoing dialogues pertaining to mental health and help readers develop a greater sense of empathy for others."
Mangold-Lenett also said he wants to emphasize the need for civilized dialogue. He keeps a journal with him constantly and writes throughout the day. He has a backlog of poetry that consists of more than 15,000 poems and said he would eventually like to publish them all, but first needs to place them in a compilation that expresses a theme.
Anxiety of a Millennial is available on http://www.barnesandnoble.com. or http://www.amazon.com. Contact Mangold-Lenett at samuelmangoldlenett(at)gmail.com or http://www.facebook.com/SamMangoldLenett.