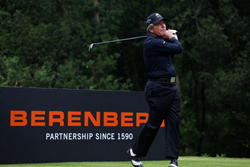 "It's a thrill to be returning to New York and GlenArbor for the Berenberg Gary Player Invitational," said Gary Player.
(PRWEB) August 31, 2017
Black Knight International and Berenberg announced today that the 2017 Berenberg Gary Player Invitational will continue to celebrate the Union of Golf and Giving at GlenArbor Golf Club in Bedford, New York on October 1 and 2.
This U.S. leg of the global series will be held immediately following the 2017 Presidents Cup, which will take place at nearby Liberty National Golf Club. It will mark the U.S. event's third visit to New York area, after an already successful series of events this year in the United Arab Emirates and the United Kingdom. The Gary Player designed course at GlenArbor Golf Club will provide a spectacular backdrop for the tournament, which will be followed by a gala dinner and charitable auction.
"It's a thrill to be returning to New York and GlenArbor for the Berenberg Gary Player Invitational," said Gary Player. "We have had a tremendous year of fundraising at our 2017 Invitational series and we continue to work toward the ultimate goal of $100 million. There will certainly be a buzz in the New York area with The Presidents Cup being played prior to our event and I can't wait!"
"As the second oldest bank in the world with a fast-growing US business, it's a pleasure for us to continue our strong partnership with Gary Player and to meet our other brand ambassadors like Bernhard Langer, Fred Couples and Tom Watson at GlenArbor," said Hendrik Riehmer, Managing Partner of Berenberg, the private and investment bank that was founded 1590 in Hamburg.
The New York event of the global series returns to GlenArbor Golf Club after an enormously successful tournament last year. Some of the biggest names in golf and business came together, raising more than $100,000 for The Player Foundation.
Once again, this year's event will bring together an all-star field including Gary Player, Lee Trevino, Bernhard Langer, Tom Watson, Fred Couples, Mike Weir, Trevor Immelman, Branden Grace, Jim Furyk, Mark O'Meara, Jay Haas, Tony Finau, Tom Lehman, Billy Horschel, Paige Spirinac, Nicole Hage, Mallory Blackwelder, Victoria Elizabeth, Victoria Lovelady, Brianna Mao, Ginger Howard, Gerina Piller, Alison Lee, and Blair O'Neal.
"It's an honor to again stage the Berenberg Gary Player Invitational," said Grant Gregory, Chairman of GlenArbor Golf Club. "It's going to be another successful time of fundraising with some of the biggest names in golf and entertainment, not to mention a little friendly competition, which will make things interesting."
The Berenberg Gary Player Invitational forms part of the world-leading charity golf series, which has helped The Player Foundation raise more than $63 million for charities worldwide. The Player Foundation's goal is to donate $100 million by 2025 in the support of children's charities, the betterment of impoverished communities, and the expansion of educational opportunities throughout the world.
The series will continue later this year in China and South Africa.
Bo Wood – Black Knight International
b.wood(at)garyplayer.com
+ 1 864 477 2720
Meagan Fester – Black Knight International
meagan(at)garyplayer.co.za
+27 21 448 7777
Notes to the editors:
ABOUT BLACK KNIGHT INTERNATIONAL
Established in 1983 by Marc Player, Black Knight International is a global holding company for The Player Group and the constantly expanding family of Gary Player® brands. With a powerful presence in North and South America, Europe, Asia, the Middle East and Africa, Black Knight is a multicultural and multilingual company offering branded services for the leisure and real estate industries. This rapidly growing firm is diverse and infused with the same tenaciousness and drive as Gary Player, world renowned iconic golfer. The holding company divisions include: Gary Player Design, Player Real Estate, Black Knight Enterprises, Black Knight Solutions, Black Knight Capital, Gary Player Academies, and The Player Foundation.
ABOUT THE PLAYER FOUNDATION
The Player Foundation was established in 1983 by Marc Player. What began as an effort to provide education, nutrition, medical care and athletic activities, for a small community of disadvantaged children living on the outskirts of Johannesburg, South Africa has now blossomed into an organization that circles the globe bringing aid to underprivileged children and impoverished communities.
The Foundation is funded primarily by six Gary Player Invitational events presented through Black Knight International. Pairing celebrities and professional golfers from the PGA and Champions Tours with businessmen and international sports figures, the annual tournaments are staged in the United States, China, Europe and South Africa. The proceeds of these tournaments and other special events provide funding for an ever-expanding number of institutions around the world, including the Blair Atholl Schools in South Africa, the Pleasant City Elementary School in Palm Beach, the Masizame in Plettenberg Bay, South Africa, and AIDS infected children in Baoshan, a drug-infested city located on the China-Burma border. Since its establishment, The Player Foundation has donated more than $60 million to the support of children's charities, the betterment of impoverished communities and the expansion of educational opportunities throughout the world.
Gary Player, acknowledged as a world-class humanitarian, believes that the strength of our future depends upon the abilities of our children. "I have found that the opportunity to make a difference in the lives of others does not thrust itself upon us," Player says, "But we do not need to look hard for it either. When you spot the chance to give back to the world, act on it. You will have made life better, for others, and for yourself."
The Gary Player Foundation is a non-profit 501 C (3) organization managed by Black Knight International in Palm Beach, Florida.
ABOUT BERENBERG
Berenberg was established in 1590 and today we are one of Europe's leading privately owned banks. With our headquarters in Hamburg and strong presences in Frankfurt, London, New York and Zurich we work from 19 offices across Europe, America and Asia. We deliver our expertise through four divisions—Private Banking, Investment Banking, Asset Management and Corporate Banking. Our Managing Partners lead Berenberg's 1,250 professionals in their commitment to delivering a modern and efficient service, while maintaining a firm connection with our heritage and traditions.
"We are proud to call Gary Player our Brand Ambassador, as he is truly a great Ambassador for the game of golf," says Dr. Hans-Walter Peters, Managing Partner of Berenberg. "This must be measured not just in terms of his career achievements as a Grand Slam Champion, but also in driving such outstanding philanthropic initiatives as the Gary Player Invitational series. The event's great virtues and its ability to give so much back to charity is one of the many reasons we have chosen this sponsorship as an important business platform for years to come."