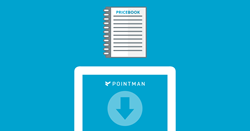 Quite frankly, having the customer list available will raise ticket sales...We believe this new feature will be huge for our users.
BUFFALO, NY (PRWEB) August 31, 2017
Pointman is a software development company experienced in creating applications for the field service industry. With the latest release to apps Scout & Acquire, each will support importing of customer lists to client accounts. Additionally, Acquire will support Pricebook imports. Scout and Acquire were designed as supplements to an existing field management software. However, especially with this update, they are used as standalone apps.
Acquire is a proposal building app, with a Good/Better/Best display to show the different proposal options. Now, companies can upload the unique pricebook onto their account in a matter of minutes. The pricebooks will be available to add items to any new or existing proposal. Before, users would need to upload items individually as they were needed. The new feature will allow items to be available to all users in the specific company.. Users can also upload customer profiles into this app. This will help track the customer's journey within the company. You can track which proposals were accepted and which were denied.
Scout is a custom form design app, with unlimited form submissions available. Scout is used predominantly for work orders, fillable forms, agreements, and other important information to your techs on the field. With this update, companies can upload their entire customer list into the app. With each form assigned to a certain customer, on the back-end and in the office, customer management will become more manageable.
Pointman's VP of Customer Success, Greg Dooley notes, "We want our apps to be simple to get started with, easy to use, and ultimately very quick to integrate into your systems. By giving users the option to upload their own pricebook, techs can build dynamic proposals with information they already know like the back of their hand." He adds, "Quite frankly, having the customer list available will raise ticket sales, and increase jobs because your sales team can now revisit and re-engage with past proposals down the road. We believe this new feature will be huge for our users."
Scout and Acquire are able to communicate with each other, so all the customer lists can be synced back in the office from both apps. Therefore, you will have one curated customer list in the office. Additionally, these applications have the availability to integrate with hundreds of online apps.
At this point, this feature is not available to users directly. The pricebook or customer list must be sent to the Pointman team, and they will upload the information. This is to make sure all the information transfers correctly and successfully.
About Pointman
Pointman is a company that develops mobile and digital products for home service and field service companies. Products include SWRemote, the mobile application for Successware®21, Field Nimble, an all-in-one field management app, Scout, a digital form building app, and Acquire, a digital proposal building app.