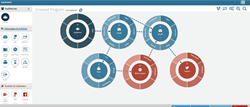 "This update further cements the ease with which marketers can navigate data and create journeys that produce better outcomes."
Boston, MA (PRWEB) August 31, 2017
QuickPivot, a leading cloud-based, cross-channel marketing platform, today announced updates across its suite that will enable marketers at companies of any size to enhance workflows and improve access to customer data. Updates include new login and usage dashboards, a platform-wide search function built on Elastic, improved segmentation features and additional reports and visualizations. These new features provide increased data flexibility and faster access to key functions resulting in a major user experience boost.
Marketers need to reach customers across channels and devices while contending with siloed data and incompatible tools. QuickPivot allows marketers to navigate this complexity with easy-to-use tools for data management, targeting, customer journey building, dynamic messaging and results analysis. New capabilities and updates across the full range of QuickPivot tools make the process even easier, and include:

New login dashboard and platform-wide search function enables users to easily navigate the platform, and retrieve in real time any object in the system using a simple English-language search.
Streamlined user administration allows better control of user access rights and more flexibility to react to individual business workflow needs.
New application and system usage dashboard looks broadly across all objects and system usage activity, providing an easily accessed system "health check."
Intuitive condition editors for dynamic content and queries provides a cleaner and more efficient user experience.
Improvements to customer journey management consist of new tools for data variable expressions with multiple matches, making multi-step decision flows even easier.
Five new report options and updated visualizations provide business users with "dashboard" style performance updates.
"The increasingly complex marketing landscape requires retailers to manage a growing number of channels and vast amounts of customer data," said Paul Mandeville, Chief Product Officer at QuickPivot. "QuickPivot already lets marketers access, parse and utilize this data effectively, and this update to the platform will serve to make this process faster, simpler and more flexible thanks to new dynamic dashboards and enhanced workflows. This update further cements the ease with which marketers can navigate data and create journeys that produce better outcomes."
The update is available to all users as of August 26th, 2017. For more information about QuickPivot and its innovative marketing platform visit http://www.quickpivot.com
About QuickPivot
QuickPivot™ delivers fast, powerful, easy-to-use software for smart and nimble marketers with big ideas. The QuickPivot Cross-channel, Campaign Management (CCCM) platform combines big data analytics, discrete customer journey insights, visual and intuitive segmentation, and simplified customer journey mapping in one unified SaaS offering. Winner of several industry innovation awards, the QuickPivot platform enables marketers to deliver coordinated customer experiences across all channels, measure results in real-time, and refine marketing programs to improve performance. As brands look for cost-effective ways to drive rapid campaign creation and execution, QuickPivot is emerging as the vendor of choice. That's why clients like Shutterfly, HP, Allen Edmonds, the NHL, and over 20 channel partners are turning to QuickPivot as their new marketing hub.