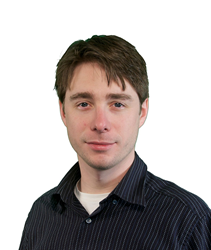 "AI is becoming more critical for business on an almost daily basis." - Ian Clarke, Blacklight Solutions
Austin, Texas (PRWEB) August 31, 2017
Blacklight Solutions has named Internet entrepreneur and AI visionary Ian Clarke to lead the company's new Machine Intelligence Practice. Clarke created and launched Freenet, the web's first peer-to-peer, censorship resistant platform for communication, and his research in artificial intelligence has led to numerous technology advances and business startups. His work has resulted in products like search engines that learn from user feedback, fair and protected compensation for creators, real-time bidding engines, and transparent, distributed programming across multiple computers.
"Increasingly, the companies we work with are wanting their products to learn and evolve to better serve their customers," said Chance Coble, CEO of Blacklight Solutions. "Having one of the web's top thinkers and innovators in artificial intelligence join us will give businesses the opportunity to deploy AI solutions that improve their data and competitive advantages."
Coble has appointed Clarke as Chief Scientist, Machine Intelligence Practice Lead. Blacklight will use Clarke's experience and insights as a researcher, developer, and entrepreneur, to launch products that learn how companies can improve their performances. Clarke's innovations already include founding businesses that generate revenue for user-created videos, web-based collaborative editing tools, and an ad-targeting engine built upon his proprietary algorithm.
"Research and the creation of new tools is the most exciting when you can see their practical applications in business," Clarke said. "I'm really looking forward to examining the challenges faced by our customers at Blacklight and how AI and machine learning can make a positive impact, both in terms of revenue and efficiencies, on how they conduct their businesses. AI is becoming more critical for business on an almost daily basis."
Clarke has founded startups Uprizer, Cemantics, Revver, Sense Array, and OneSpot. In 2003, he was named to the MIT Technology Review TR100 as one of the top 100 innovators in the world under the age of 35.
About: Blacklight Solutions is an applied analytics company based in Austin, Texas. We help our clients solve business problems by putting their data to work with products designed to improve their revenues and customers' satisfaction.