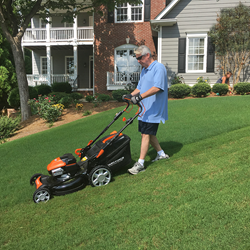 "Torque-Sense Technology provides higher running speeds and power when cutting wet or dense grass and saves battery energy under normal cutting conditions"
Atlanta, GA (PRWEB) August 31, 2017
It's a scene that most American consumers are familiar with: maintaining gas powered yard equipment including mowers, blowers and trimmers is costly, messy, smelly and expensive. Corded electric yard tools are not that powerful and running on extension cords is limiting. Until now, battery-powered tools had go-anywhere convenience but had lacked the power and run-time of gas powered equipment. Yard Force is putting an end to the bane of gasoline or corded electric yard tools with the advanced technology in 120vRX Lithium-Ion batteries.
Recently the Yard Force 120vRX series of yard tools, with the R&D cooperation of domestic and overseas company teams, produced by SUMEC Hardware & Tools, have successfully passed the UL latest test of garden manufacturing industry standards.
On August 23, 2017, Mr. Brain Ferriol, the global development director of UL visited SUMEC High-tech industrial park of Nanjing and issued the world's first UL certificate for Yard Force 120vRX DC garden tools. Liu Kai, the president of SUMEC Hardware &Tools, met with Mr. Brain Ferriol and staff. Yard Force has become the world's first garden tools manufacturer brand that has obtained this certificate.
Until now, traditional yard tools were mainly powered by gasoline or electric motors. With obtaining the world's first UL certificate for the 120vRX series, the power performance of Yard Force can be comparable to the conventional power sources. Moreover, Yard Force's 120vRX series solved various problems associated with run-time and performance compared to similar gas-powered products.
As a global independent safety science company offering expertise across three strategic businesses, UL provides the most trusted guarantee in the United States. Obtaining the first UL certificate of 120vRX series indicates that Yard Force provides 120v battery series products with high quality, security and reliability.
"The Yard Force 120vRX series contains many new features which can bring powerful, trustful, reliable usage experience to end users," says Joh Plocic, President of Merotec Inc. the North American business unit of SUMEC Hardware & Tools. "Torque-Sense Technology provides higher running speeds and power when cutting wet or dense grass and saves battery energy under normal cutting conditions," he continued. The mower has dual battery ports for extended run-time and speed-adjustable self-propelled drive is essential for yards with hills and slopes of all degrees to maintain a consistent cut and is safer by providing more control during operation. The Yard Force 120vRX series represents the future trend in manufacturing technology.
About SUMEC
Founded in 1997 in Nanjing, China, SUMEC is a manufacturer of innovative indoor and outdoor power tools and equipment in battery, electric and gas power platforms for the global market. Headquartered in China with divisions for R&D and marketing in North America, UK, Europe and Australia – SUMEC is emerging as the leader for performance, innovation and quality in outdoor power equipment with its Yard Force brand offering a full range of high pressure washers and lawn care products. For more information, visit http://www.sumecpower.com or http://www.merotecusa.com.