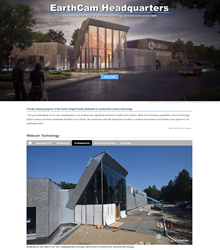 The unique opportunities posed to our company over the past 21 years have fueled the motivation and innovation that drives our team to deliver smart technology and world-first solutions.
New York (PRWEB) August 31, 2017
EarthCam, the leading provider of webcam technology, software and services, is proud to announce its twenty-first year of business today. Through constant innovation and leading-class customer service, EarthCam has evolved as the premier solution provider, spanning a multitude of industries, from stadium construction and infrastructure development to showcasing tourism destinations and live event broadcasting.
In honor of its 21st anniversary, EarthCam.com will launch a complete refreshed website, sporting a new design at 2:10 PM ET today. Live camera content and time-lapse movies are curated daily to highlight beautiful vistas, world-famous landmarks, and breaking news. EarthCam's high-definition live streaming views provide the public with a means to virtually explore and connect to locations they may never have a chance to see in person. EarthCam's fans often echo that sentiment on social media, like Joanna from Cleveland, who said "I love EarthCam, it's like traveling around the world and never leaving home!" Climb to the torch balcony of the Statue of Liberty, see the National Mall from the top of the Washington Monument, visit the Abbey Road Crossing in London and view the iconic Mount Kilimanjaro, all on EarthCam.
"We have continually raised the bar for what is possible when it comes to webcam technology," said Brian Cury, CEO and Founder of EarthCam. "The unique opportunities posed to our company over the past 21 years have fueled the motivation and innovation that drives our team to deliver smart technology and world-first solutions. Whether we are live streaming from Times Square, creating 360° virtual reality site tours or documenting the most significant construction projects using multi-billion pixel panoramas, our ongoing mission is to deliver the most compelling high-quality content available."
In addition to a new website design for the tourism and entertainment sector of EarthCam's business, there have been major advancements for EarthCam.net this year, as well. With the acquisition of an international construction camera company, siteisight, EarthCam has been expanding its presence overseas by providing reliable technology and powerful construction camera solutions to clients. EarthCam is also delivering on its mission to support the construction industry by partnering with Procore and PlanGrid. Through the partnerships, EarthCam is providing critical visual information live from construction sites via streaming video and 360° imagery, so its clients have access to valuable data to monitor, document and promote their projects.
The company is also putting the finishing touches on the EarthCampus, EarthCam's new world headquarters in Northern New Jersey. The 10-acre campus is dedicated to building best-in-class solutions for webcam technology and services.
To learn more about the future of EarthCam's webcam technology, visit http://www.earthcam.net. To explore the world with EarthCam's live streaming webcam network, visit http://www.earthcam.com.
ABOUT EARTHCAM
EarthCam is the global leader in delivering webcam content, technology and services. Founded in 1996, EarthCam provides live streaming video and time-lapse construction cameras for corporate, tourism and government clients in major cities around the world. EarthCam's revolutionary gigapixel camera systems deliver superior multi-billion pixel clarity for monitoring and archiving the world's most important projects and events. EarthCam's all-weather webcams, innovative software and mobile applications enable users to showcase unique views, increase exposure and generate positive public relations.
The Webby Award winning company hosts many highly trafficked tourism cams, with views of popular locations and landmarks such as Times Square, World Trade Center, Las Vegas, Bourbon Street, Eiffel Tower, Andy Warhol's gravesite, Hollywood Boulevard, Miami Beach, Atlantis the Palm Dubai, Petra in Jordan and Abbey Road Crossing in London.
Projects documented by EarthCam include: Hudson Yards, Panama Canal Expansion, 9/11 Memorial Museum, Atlanta Falcons' Mercedes-Benz Stadium, Barclays Center, Statue of Liberty and Washington Monument Restorations, New NY Bridge, LaGuardia Airport, The Jeddah Tower, 56 Leonard Street, 432 Park Avenue, Brickell City Centre, Minnesota Vikings' U.S. Bank Stadium, Qatar Rail, Whitney Museum of American Art, Louvre in Abu Dhabi and Smithsonian National Museum of African American History and Culture.
To experience more of EarthCam, visit http://www.earthcam.com.